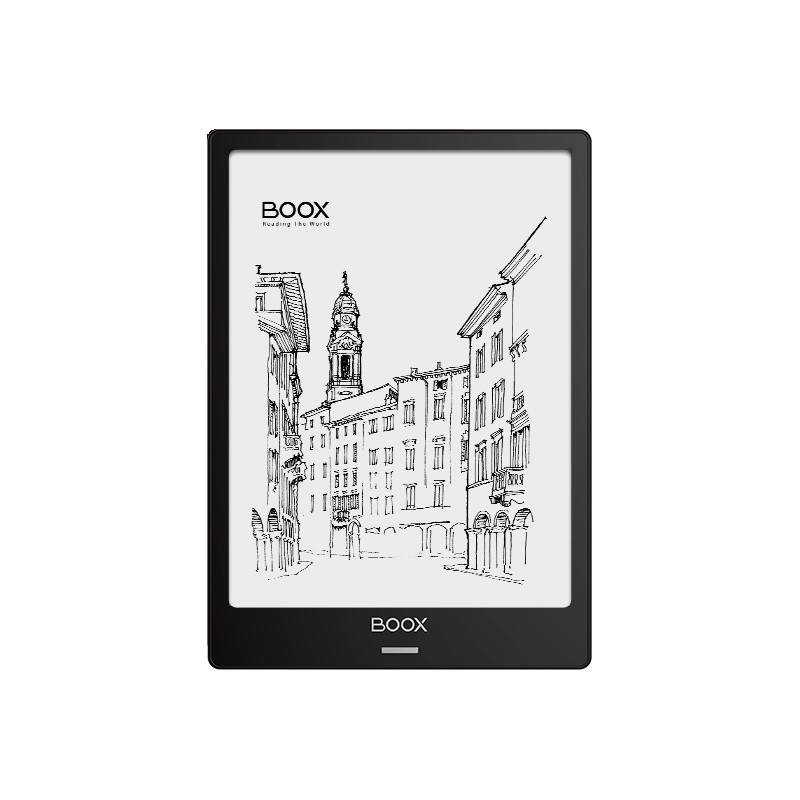  
Onyx Boox Note
412,00 €
Sparen Sie 50,00 €
ONYX Boox Note Professional ist der neuste und bestens ausgestattete professioneller 10.3" E-ink reader mit Carta Flexible Bildschirm, induktiver und capacitiver (Dual Touch) Steuerung,  Android 6.0. Quad Core CPU, 2G RAM+32G Speicher
Calculate Delivery Cost
Versand in DE erfolgt via DHL. Lieferung an Packstationen möglich. Für ausgewählte Produkte und Bestellwerte ab 550 EUR wird für EU Adressen kein Versand berechnet. Preiswerter Versand als UPS Express weltweit.

14 Tage Rückgaberecht (siehe unsere AGBs)

Nun zum Produkt:

ONYX BOOX NOTE
Mit dem
10.3" E-Ink-Carta Flexible
Bildschirm
Sehr scharf mit der Auflösung von
1872x1404 Pixel (227dpi) und hohem Kontrast (15:1)
.
Der beste Weg, Ihre Dokumente zu lesen. Auch im starken Sonnenlicht werden Sie Ihre Dokumente problemlos lesen können.
Einige der wichtigsten Vorteile des Mobius Bildschirms:Es
ist sehr leicht!
Niedrigster Stromverbrauch
Sehr hohe Auflösung:
Elektromagnetischer (WACOM) und kapazitiver berührungsempfindlicher Bildschirm.
Mit dem mitgelieferten Stylus können Sie auf dem Bildschirm genauso wie mit einem echten Stift zeichnen und Notizern in Ihren PDF Dokumenten schreiben.
WACOM Digitalisierer sorgt für präzise Linienführung.
Zusätzlich können Sie den Note auch mit Ihren Fingern wie gewöhnliches Tablet PC steuern.
1.6 GHz Quad-Core Prozessor
Neuester Leistungsstarke Quad-Core Prozessor ermöglicht noch schnellere Berechnungen von komplexen Rendering Prozessen und macht das Arbeiten mit Ihren Dokumenten sehr komfortabel.
Android 6.0 OS
Profitieren Sie von der riesigen Auswahl an Software Angeboten, die mit diesem Betriebssystem kompatibel sind.
Eingebauter Lautsprecher und Mikrofon
Für Ihre Musik und Ihre Sprachaufnahme. USB-C Audio-Interface. Unterstützung Text-to-Speech-Funktion, Musik im Hintergrund spielen, Hörbüchern.
High-Speed-WIFI + Bluetooth 4.0
Stärkere WIFI Antenne, stabilere Verbindung und schnellere Download-Geschwindigkeit. Surfen Sie Ihre Lieblings-Seiten oder laden Dateien oder Ebooks schnell und komfortabel.
Mit integrierter Bluetooth 4.0 Technik können Sie Ihre Daten ohne WIFI übertragen oder eine externe Tastatur, Pedale oder Audiogeräte verwenden. Effizient, schnell, bequem.
2GB RAM + 32G Speicher
2GB RAM + 32G interner Speicher - keine Sorge mehr über Speicher. Mehr APPs, große Dateien, alles, was Sie auf Ihrem Gerät wünschen.
Multi-Format-Unterstützung
Onyx Boox Note unterstützt ab Werk die am meisten vorkommenden Formate:PDF
EPUB TXT MOBI CHM DJVU HTML RTF FB2 DOC PDB etc. Textformate
JPG PNG BMP etc. Bildformate
MP3 WAV etc. Audio-Formate
andere Sonderformate können mit Drittanbieter-Anwendungen unterstützt werden.
Mobilität
Nur 6,8 mm dünn und 355g leicht, trotz seiner Größe immer noch bequem zu tragen - sowohl in der Hand, als auch in der Tasche.
Batterie mit der großen Kapazität
Mit dem 4100mAH Lithium-Polymer-Akku, können Sie ca. 4 Wochen lange Standby-Zeit erreichen.
Lieferumfang Onyx Boox Note:
Onyx Boox Note
Wacom E/M Stylus
USB-C cable
Protective cover (optional)



Technische Daten
Abmessungen

249.5*177.8*6.8mm

Gewicht

355g

Bildschirm

10.3 " HD Mobius Carta Flexible Screen Resolution 1872x1404 Carta (227dpi)

Touchscreen

Wacom digitzier with stylus + capacitive touch

Prozessor

1.6GHz Quad-core

Speicher

RAM 2GB LPDDR3 +32GB Storage

Konnectivität

WiFi (802.11b/g/n) + Bluetooth4.1 + USB type C

Audio

Dual Speaker+ Mic +Audio output via USB-C

Batterie

4100mAh Polymer Li-on
R Tudor




Jan 1, 2019

Review is pending moderation
S Jose




IP: 177.149.58.118





Jul 11, 2018




Idioma Brasileiro Não esta Bom

It seems that there is no way, Onyx put the language "Portugues Brasil", but it did not work. The Brazilian language is all messed up, mixed with English and without a dictionary, my only alternative is still the Spanish and the Amazon Kindle App ... I'm glad that it's a great android device that although I'm not satisfied with my language it's worth compensating a lot, due to the various features that iTunesOnline offers, making the language issue less important, after all you can install several applications like Kindle, Kobo, Moon-reader and many others. In fact I wanted to be able to try the Onyx Note app, but because it does not have the Portuguese dictionary Brazil does not. That's it, everyone, there's no way ... BUT HERE IS HERE A NEW REQUEST TO THE ONYX TEAM IF POSSIVELY OF A REVIZADA IN THE BRAZILIAN LANGUAGE INSTALLED IN ONYX NOTE I do not want to be annoying, but if it's not possible, there's no problem, Onyx Note remains the best reading device I have ever had, the language is just a detail that would make it excellent. Thank you.
O Sorcha




IP: 95.44.39.196





Jul 4, 2018




Overall happy but a few glitches

Overall I'm quite happy with this device.
I received it in good time in a strong box. It has really made a difference for me in terms of being able to use documents without a bulky laptop or bright screen as I've severe eye sensitivity.
I like its versatility and features. Some apps are not so good since it is e-ink but many apps work well. Its size is convenient for carrying and comfortable design of device and pen and a nice sleep case too. Documents are manageable but sometimes I wonder if I should have got the Max2 instead to have an even better experience with A4 documents.
However there are some glitches I find. Some minor and one major. For now, I'd give 3.5 stars.
- Close to the edges of the note, taking, the drawing gets thin and distorts (ie not landing exactly where you drew). This is a greater nuisance when taking side notes because the space to draw is already quite small so this further restricts it.
- When starting text-to-speech, sometimes it doesn't start but automatically pauses then skips a line or 2. This is frequent.
- Sometimes note-taking vanishes. Usually I notice pretty quickly and haven't lost much work and can get it working by exiting and re-loading but sometimes it takes a few tries. That could be a major problem if you're doing more important work and don't know to frequently check this. Today however, despite having saved my work many times yesterday, I found that almost all of yesterday's work on a document is gone. A page of scribbling (underlining text of the pdf) is gone and so are 3 pages of side-notes. This is very problematic.
Are there any updates to fix these bugs? If so, could I get a link to it please? To fix these would make me happier with this product.

L Denis




Jun 25, 2018

Review is pending moderation
S Jose




IP: 179.54.235.78





Jun 15, 2018




Atualização para idioma Brasileiro (Portugues)

Excelente reader - Só falta ter nele o meu idioma (Português - Brasil) mas mesmo assim ele tem tantos recursos que eu estou me virando com o idioma Espanhol. Estou esperando a atualização que a Onyx marcou para este mes de Junho... ai estará perfeito... vem mesmo este mes?
V Ante




IP: 93.136.81.30





Jun 8, 2018




Really nice reader & really awesome store service!

Ordered my Onyx Boox Note after midnight on a monday.

Note shipped same day around 16:00, and arrived to my door four days later.
Crazy fast service and shipping! I'm impressed! Top notch packing too!

Reader itself is a blast, i love the form factor and performance.
I've been out of the E-ink game since iRex iLiad, this is the first "new" E-ink reader i felt the urge to buy. And i'm happy i did, it does exactly what my old iLiad did, except in a lighter and thinner package, with order of magnitude better battery life, and a better and larger screen.
S Jose




IP: 179.54.244.244





May 26, 2018




chegou para mim no Brasil. Exelente ereader.

Este aparelho é multifuncional, se eu for querer escrever tudo oque eu posso fazer com ele, teria que escrever muitas linhas aqui.
Bom, realizei um sonho, com este aparelho , baixei o aplicativo da amazon e é como se eu tivesse o kindle do sonhos de muitos.
a escrita nele é fantastica é melhor que uma caderno. Eu sou desenhista e ele só da para fazer alguns rabiscos, o forte nele é a escrita
e os livros, da para ler qualquer livro. É UMA PENA QUE ELE NÃO TEM O MEU IDIOMA AQUI DO BRASIL, MESMO ASSIM ESTOU MUITO SATISFEITO COM MEU NOTE, NÃO ME ARREPENDO DE TER COMPRADO,, EU ACABEI DE RECEBER O MEU IPAD 2018 QUE FOI LANÇADO... MAS PARA AQUELES QUE TIVEREM DUVIDA QUANTO UM E OUTRO, FICA AQUI MINHA OPINIÃO NADA MAS NADA MESMO SE COMPARA COM UMA TELA DE UM READER E A BATERIA DO MEU READER DURA SEMANAS E NÃO DOI E NEM CANÇA AS VISTAS... ONYX VOCES ESTÃO DE PARABENS SÓ NAO ESQUEÇA DE NÓS BRASILEIROS E COLOQUEM O IDIOMA ( PORTUGUES BRASI NA PROXIMA ATUALIZAÇÃO )
G Antonio Rogério




IP: 186.249.85.55





May 2, 2018




Boox Note é o melhor de todos!

Recebi o meu Boox Note 31 dias no Brasil após o meu pedido. 10 dias foram apenas na alfândega em São Paulo (houve uma greve). Tirando isso foi tudo normal.

O aparelho é fantástico, o melhor e-reader de todos! Melhor que o Lobo Aura One (exceto pela luz alaranjada do Kobo) é muito melhor que Kindle Oasis também! Estou muito satisfeito!

Tive apenas uma surpresa, o idioma brasileiro não estava disponível. Mas estou me virando com o espanhol. Não é difícil, os menus são bem simples e funcionais.

A capa encaixa-se perfeitamente e é de ótima qualidade.

A caneta stylus é um diferencial, isso bastante, uma nova experiência para ler, fica mais real a leitura.

A digitalização é perfeita, muita sensibilidade, os traços ficam reais, os desenhos ficam ótimos.

A material realmente é muito boa, não deixa a desejar.

Os atendentes tem sido bastante atenciosos também e tem tornado a percepção da compra mais segura.

Parabéns a toda a equipe que desenvolveu e distribui ao mundo o Boox Note! Excelente trabalho!
N Mark




IP: 72.73.77.231





Apr 18, 2018




Onyx Boox Note with Protective Case

Suppose you want one, and only one, e-reading device. Which one should you choose?

It can feel like the story of Goldilocks and the Three Bears. A six inch device is fine for ePub and Kindle books, but too small for pdfs. The Max 2 is great for pdf, but a bit too big for reading eBooks. A device that is restricted to only Amazon or Kobo content doesn't allow you to add Instapaper or your favorite email app.

What if there were a device that was small enough for serious reading, large enough to use Splashtop to have your desktop or laptop display on it, and roomy enough for you to install whatever apps you want? Might that device feel... just right?

Enter the Onyx Boox Note. It is basically a reduced-size version of the Max 2. Its 10.3 inch display lands it right in between the 9.7 inch iPad and the 10.5 inch iPad Pro, yet it is lighter than either. Its 2 gb of RAM and quad-core processor make it more capable than older E-Ink devices. It runs Android 6.0 and includes Google Play Store, so you can install current versions of your favorite reading apps. It has 32 gb of internal storage, giving you plenty of room for your books, pdfs. and other files. Bluetooth gives you more connectivity options. The Note has two speakers. They aren't exactly top-of-the-line, but they'll do. (Bluetooth headphones are the way to go here!) The Note comes with a WACOM stylus. I haven't tried its note-taking features yet, though. You can also use the stylus instead of your finger on the touchscreen. The Note also comes with a protective case. Mine arrived today. It fits the Note very well, and has a slot for the stylus. The Note will go into sleep mode when the case is closed, and wake when it's opened.

The Note has no frontlight. It's not intended for dark places. Wherever you have enough light to comfortably read a paper book, you can comfortably use the Note. The Note has no sd card slot, either. But, given the 32 gb of internal storage, and how one can easily transfer files to and from one's desktop or laptop, this really isn't a big deal.

Compared to smaller E-Ink devices, the Note is not cheap. However, given that it is far more capable than older, smaller E-Ink devices have been, the price is reasonable. It is in line with the iPad and similar Android tablets.

If this weren't enough, I have found that Waldemar and the folks at the eReader Store are a pleasure to work with and communicate with. They care about their customers and do their best to support their products.

I haven't encountered any bugs or glitches on my Note yet. It seems that Onyx has come a long way in quality control from when they first introduced the T68 (bad memories for me there!).

So, if the Note feels "just right" to you, by all means, buy it! And, if you buy it, buy it from the eReader Store. You won't regret it.


L Johannes




IP: 190.101.50.161





Apr 11, 2018




The best e-reader and note taker so far

I have it for one week now. Really good for PDF documents.I like the option to take notes over pdf documents. I would love to have the option to use a pendrive to transfer documents.
Only registered user can add review.
Login
Frage
(0)
Keine Fragen von Kunden für den Moment.
Ihre Frage wurde erfolgreich unser Team geschickt. Vielen Dank für Frage!
Kunden, die diesen Artikel gekauft haben, kauften auch ...
schutz-huellen
Schutzhülle aus PU Leder Max Serie
Original Onyx Boox Max Serie Schutzhülle aus hochwertigen PU Leder.





(0)
ladegeraete
Ladegeraet USB Adapter Schwarz
Geignet für alle Geräte mit USB Anschluss: Ereader, Smartphones, Kameras, Tablets oder...





(0)
zubehoer
Boox Standfuss
Der Boox Desk Stand ist in der ersten Linie entworfen, um es mit Onyx Boox Max (Carta) oder...





(0)