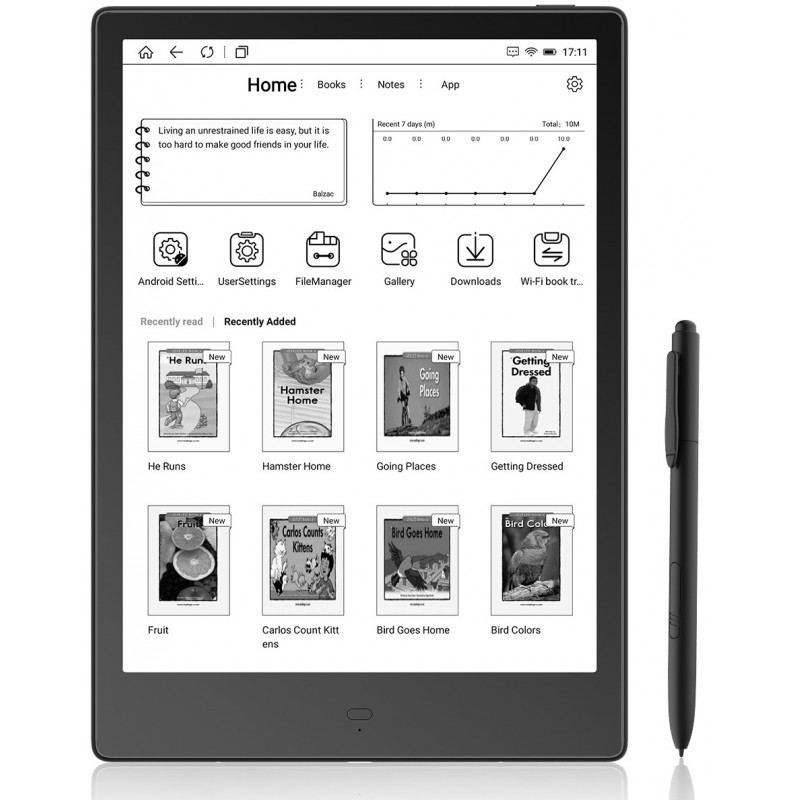  
Boyue Likebook ALITA + FREE SHIPPING (EU) + FREE ACCESSORIES
The latest Boyue Likebook ALITA belongs to the family of Professional 10.3 "powerful eReaders, equipped with Octa-Core processor, 4 GB RAM 32 GB memory, Android 8.1 (after upgrade ), and Google Play, Dual-Touch (Capacitive Wacom). Completely flush with the front panel, the front-lit display with a color temperature system will make reading on the big screen even more enjoyable. USB-C port supports OTG Hidden SD card slot (up to 128G).

Free shipping via UPS to EU mainland for selected products and from 250 EUR

Consumers can return their purchases within 14 days after delivery (please Terms & Conditions)

Boyue Likebook ALITA

With the  completely flush with the front panel 10.3 "E Ink Mobius  Screen + Integrated Front Light with the light color selection system
 
Very sharp with a resolution of 1872x1404 pixels (227ppi) and high contrast. No glare or reflection. Energy-efficient. Your eyes will thank you. Comfortable reading in strong sunlight as well as in dark ambient.
 
Some of the main advantages of the E-ink screen:

Lowest power consumption
High Resolution:
 
Electromagnetic (WACOM) and capacitive dual touch screen.

With the supplied stylus, you can draw on the screen just as you would draw and write notes in your PDF documents with a real pen.
WACOM digitizer ensures precise lines.
In addition, thanks to the capacitive layer, you can control the Likebook ALITA with your fingers like an ordinary Tablet PC.
 
 

1.5 GHz octa-core processor

The latest high-performance octa-core processor enables even faster computation of complex rendering processes and makes working with your documents very comfortable.
 
Android 8.1 OS (available after next automatic upgrade via OTA. Currently - Android 6.0.1)

Take advantage of the huge range of software offerings that are compatible with this operating system.
 
3.5 mm Audio Jack

For your music or text-to-speech function. Play music in the background, listen to your audiobooks.
 
High-speed WIFI + Bluetooth 4.1 + USB-C

Stronger WIFI antenna, more stable connection and faster download speed. Surf your favorite pages or upload files or ebooks quickly and conveniently. With integrated Bluetooth 4.1 technology, you can transfer your data without WIFI or use an external keyboard, pedals or audio devices. Efficient, fast, comfortable.
USB-C supports data transmission, audio output, and OTG functionality.
 
4GB RAM + 32G + TF Card support up to 128GB memory

4GB RAM + 32G storage + possibility to extend your memory via TF card - no more worries about memory. More apps, big files, everything you want on your device.
 
Multi-format support

Likebook ALITA supports all most common formats
 
other special formats can be supported with third-party applications.
 
Mobility

Despite its size, it is still comfortable to handle  - both in the hands and in the bag.

Large capacity battery

With the 4300mAH lithium-polymer battery, you can achieve about 2-3 weeks of standby time.
 
The scope of delivery:
Likebook ALITA
Wacom Pen
USB-C cable
Replacement tips for the Wacom stylus and a protective film as free accessories









Data sheet
Dimensions

177*252*8 mm

Weight

395g

Display

Flush 10.3 " E-ink HD Mobius Screen 1872x1404 Carta (227ppi) with Front Light color system

Touchscreen

Dual (capacitive touch + Wacom)

Processor

RK3365 8-Core 1.5GHz

Memory

RAM 4GB LPDDR3 +32GB Storage + TF Card support

Connectivity

WiFi (802.11b/g/n) + Bluetooth 4.1 + USB-C (OTG)

Audio

Stereo Speaker + USB-C audio output

Battery

4300mAh Polymer Li-on
M Ievgen




Aug 29, 2019




Boyue Likebook ALITA (Black)

Absolutely satisfied with this e-reader, it has all necessary features to bring your reading-learning to the highest standards. The performance is well enough to move within the books with any size, scroll to wherever you want either back or forward, make notes wherever you want even open special note sheet on the right side if needed. There is a very helpful translation features which saves time, you just select the text need to be translated and it works.

Perfect relation of price-quality, highly recommended purchase for those who like to read and want to go away from LCD devices destroying your eyes and bringing you to the permanent tiredness. Producers of such device are on a right way.
Only registered user can add review.
Login
Questions
(5)
From
Ioannis Zagkaretos
|
2021-04-27 05:36:19
Hi, I would like to inform me about Alita Likebook screen color. Is it paper white or same color as Onyx boox Note Pro?
administrator
Yes. Screen color (actually the screen types) in Alita and Note Pro are identical. Boyue and Onyx are using the same screens from EINK.
From
Shahriar
|
2020-01-24 08:03:57
Hi, Does the package also include the stylus pen or it should be bought separately?


administrator
Yes, the Wacom stylus is in the scope of delivery.
From
Reinhard
|
2019-11-24 10:43:18
I cannot update the Alita E-reader book via wifi network, it says, the latest software is already installed. But I know , its possible to update from Android 6.001 to Android 8
Can anybody tell me how to upgrade the book from local memory? Where can I download the "update.zip" file?

Thanks!
administrator
The upgrade to Android 8 of Boyue Likebook devices (Alita and Ares) has been postponed to December and will be released soon via OTA as usual.
From
JP
|
2019-11-05 11:23:59
Can you fully turn off the front-lit display on the Alita so that it's emitting no light at all (I suffer from visual stress and related conditions so I'm looking to buy a note ereader that emits no light), Any assistance would be greatly appreciated. Many thanks
administrator
Hi,
on every of our devices with implemented front light (including Alita) you can disable (turn off) the front light completely .
From
Jun
|
2019-10-04 12:35:57
Cant decide between the Alita and muse.I want the tablet for notetaking and reading some novels,need some suggestions
administrator
Both Alita and Muses are fit for your goals. The noticeable difference is the size. If you don't have any problems with your sight, Muses would be OK for you. If you prefer to work with bigger fonts - I would suggest to try out Alita.
Your Question has been successfully sent our team. Thanks for question!
Customers who bought this product also bought:
digitizer-stylus
BOOX Wacom Stylus Nibs
Original replacement nibs for Wacom styluses of Onyx professional and Boyue...
accessoires
Onyx Boox Desk Stand
The  Boox Desk Stand designed to be able to use our tablets even more comfortably. Durable...
digitizer-stylus
Wacom Stylus
Replacement Stylus for Onyx Boox Max2, Max2Pro, Onyx Boox Note (Note Pro, Note Plus)  and...