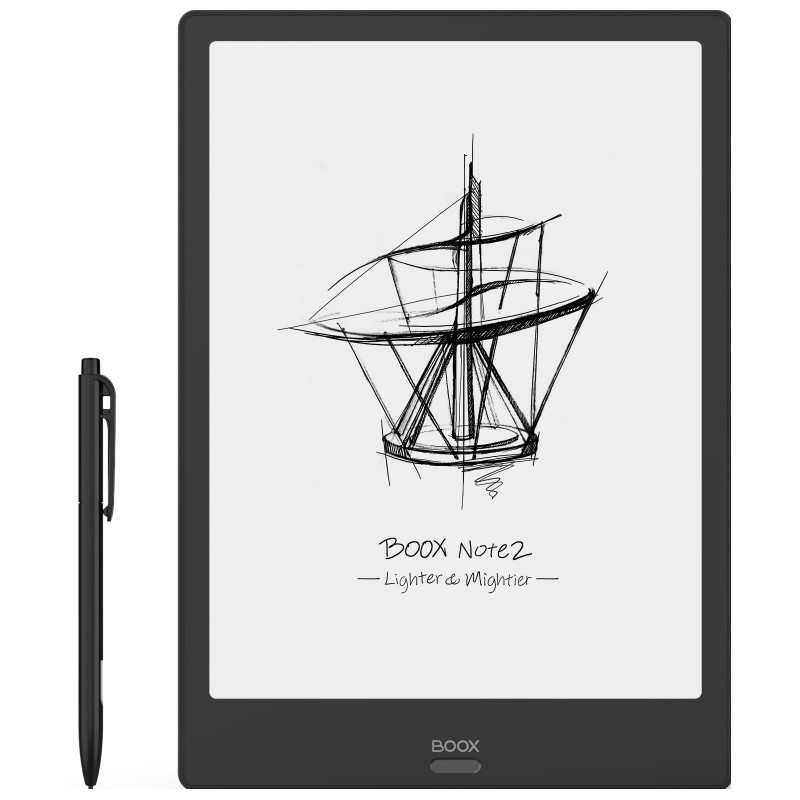  
Onyx Boox Note 2
ONYX BOOX NOTE 2 is the newest and best-equipped 10.3" professional E-ink /E-Paper Tablet with Carta flexible screen with glass flush front (flat cover-lense). scratch protected + anti-glare + with integrated front lighting with color temperature system, WACOM + Finger dual touch control, 2 GHz Octa-Core Processor, Android 9.0,  built-in Mic, WIFI (2.4GHz+5 GHz)  and Bluetooth 4.1, 4G RAM+64G Storage, USB-C OTG

Free shipping via UPS to EU for selected products and from 550 EUR. Low-priced shipping via UPS Express worldwide .

Returns accepted 14 days after delivery (please read our Terms and Conditions)

ONYX BOOX NOTE 2
With the  10.3 "E-Ink / E-Paper Carta Flexible Screen with glass flush front scratch protected + anti-glare + with integrated front lighting with color temperature system.
 
Very sharp with the resolution of 1872x1404 pixels (227dpi) and high contrast (15:1). No glare or reflection. Energy efficient. Your eyes will thank you. The best way to read your documents in the original A4 or US Letter format. E-Ink screen uses only ambient light reflection. No flicker, no glare, no reflection, even in strong sunlight you will be able to read your documents easily.
 
Some of the main advantages of the Mobius screen:

Very lightweight!
Lowest power consumption
High Resolution:
 
Electromagnetic (WACOM) and capacitive dual touch screen.

With the supplied stylus, you can draw on the screen just as you would draw and write notes in your PDF documents with a real pen.
WACOM digitizer ensures precise lines.
In addition, thanks to the capacitive layer, you can control the Onyx Boox Note 2 with your fingers like ordinary Tablet PC.
 

2 GHz octa-core processor (Cortex A-53)

Latest high-performance quad-core processor enables even faster computation of complex rendering processes and makes working with your documents very comfortable.
 
Android 9.0 OS

Take advantage of the huge range of software offerings that are compatible with this operating system.
 
Dual Speaker and microphone. + USB-C OTG!

For your music and voice recording.  Support text-to-speech function, playing music in the background, audio books. USB-C audio interface + OTG (supports connection externals storages) 
 
High-speed WIFI (2.4 GHz +5 GHz) + Bluetooth 4.1 
Stronger WIFI antenna, more stable connection and faster download speed. Surf your favorite pages or upload files or ebooks quickly and conveniently. With integrated Bluetooth 4.1 technology, you can transfer your data without WIFI or use an external keyboard, pedals or audio devices. Efficient, fast, comfortable.
 
4GB LPDDR3 RAM + 64GB memory

4GB RAM + 64GB internal memory - no more worries about memory. More apps, big files, everything you want on your device.
 
Multi-format support

Onyx Boox Note 2 supports the most common formats:
 
PDF EPUB TXT MOBI CHM DJVU HTML RTF FB2 DOC PDB etc. Text formats
JPG PNG BMP etc. image formats
MP3 WAV etc. audio formats
other special formats can be supported with third-party applications.
 
Mobility

7.1 mm thin, 378g weight, despite its size it is still comfortable to handle  - both in the hands and in the bag.
Fingerprint Sensor for Data Protection.
In the back button Integrated fingerprint sensor for locking and unlocking your tablet

Large capacity battery

With the 4300mAH lithium-polymer battery, you can achieve about 4 weeks of standby time.
 
The scope of delivery:
Onyx Boox Note 2
Wacom E/M Stylus
USB-C cable









Data sheet
Dimensions

249.5*177.8*7.1mm

Weight

378g

Display

10.3 " HD Mobius Carta Flexible Screen Resolution 1872x1404 Carta (227dpi) with integrated front lighting with color temperature system

Touchscreen

Wacom digitzier with stylus + capacitive touch

Processor

2GHz Octa-core Cortex-A53)

Memory

RAM 4GB LPDDR3 +64GB Storage

Connectivity

WiFi (802.11b/g/n 2.4.GHz +5GHz) ) + Bluetooth4.1 + USB type C

Audio

Dual Speaker+ Mic + audio output via USB-C

Battery

4300mAh Polymer Li-on
M Sofia




IP: 194.154.255.200





Feb 22, 2020




Note 2

Amazing e-reader, also great for taking notes. I'm very satisfied with this product and I highly recommend it.
Retailer delivered quickly.
P Viorica




IP: 88.19.238.45





Jan 28, 2020




Mi Note 2

He recibido ayer mi nuevo Note 2 y aunque todavía lo estoy descifrando, puedo decir que estoy encantada con el. Se me habia olvidado como se lee en una pantalla casi tan grande como una hoja A4, nunca mas me compraré un ereader pequeño. Espero que me dure mucho tiempo.
Only registered user can add review.
Login
Questions
(3)
From
igor
|
2020-08-30 05:06:47
can you totaly turn of front light (to be as there is no front light)
administrator
Yes, you can turn the light completely off on all our devices with front light
From
Димитър Белев
|
2020-02-10 09:41:41
Does the reader support Bulgarian? Are there any dictionaries in Bulgarian?
administrator
Bulgarian fonts and Bulgarian language are supported by our software. Our dictionary app supports free Stardict dictionary format. There are lots of free dictionaries on the web. Here you can find many useful links and files: http://download.huzheng.org/
From
Robin
|
2019-11-26 22:54:01
Hi!

What is the warranty on Onyx Boox note 2?
And do you have screen protection coming in soon?
Thanks
Robin
administrator
For EU customers we offer two years of warranty. Non EU customers one year.
Proper screen protectors for Note 2 will be available from next week.


Your Question has been successfully sent our team. Thanks for question!
Customers who bought this product also bought:
digitizer-stylus
Wacom Stylus Max3 (white)
Original replacement Stylus for Onyx Max3 . It is also compatible to Boox Max2, Max2Pro,...





(0)
accessoires
Note 2 Screen Protector
Screen protector suitable for Onyx Boox Note 2
Protects against glare...





(1)
digitizer-stylus
BOOX Max 3 Wacom Stylus Nibs White
Original replacement nibs for white Wacom styluses of Onyx Boox Max 3 series.
€12.00 Price





(0)