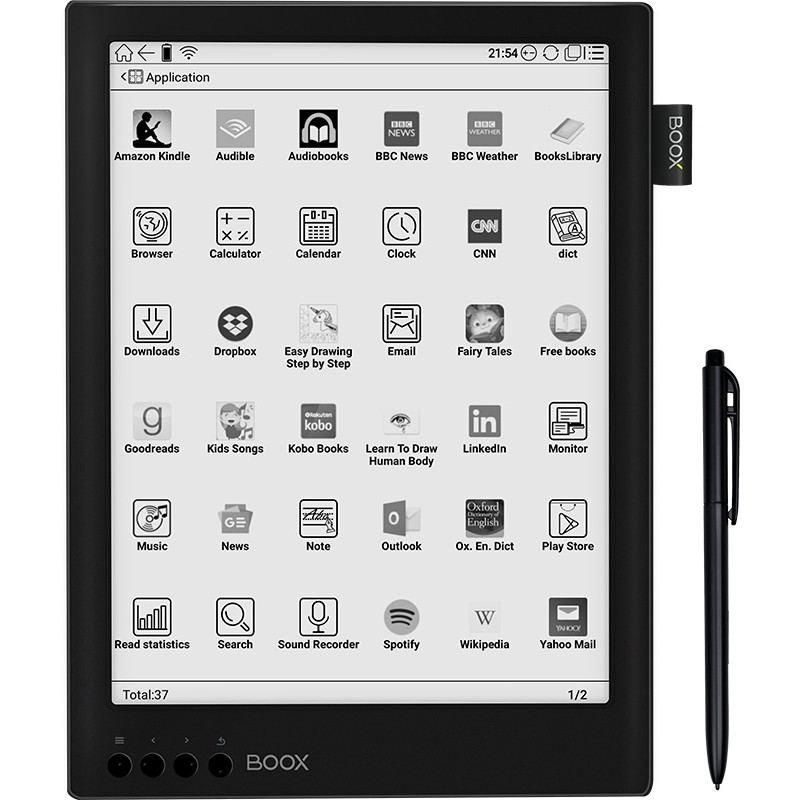  
ONYX BOOX MAX2PRO (64GB)
Free Shipping (EU mainland)
ONYX BOOX MAX2PRO (BLACK) is a professional best equipped 13.3" E-ink reader with Carta flexible screen, WACOM + Finger dual touch control, 1.6GHz 4xCore Processor, Android 6.0 (upgrade to Android 9.0 was announced), HDMI, built-in Mic, WIFI and Bluetooth 4.0, 4G RAM+64G ...

Free shipping via UPS to EU for selected products and from 550 EUR. Low-priced shipping via UPS Express worldwide .

Returns accepted 14 days after delivery (please read our Terms and Conditions)

ONYX BOOX MAX2PRO 4-64GB. BLACK.  Professional Series
With the huge 13.3 "E Ink Carta Flexible Screen
 
A really fantastic big screen with ambient light reflection. Very sharp with the resolution of 2200x1650 pixels and high contrast (15:1). No glare or reflection. Energy-efficient. Your eyes will thank you. The best way to read your documents in the original A4 or US Letter format. E-Ink screen uses only ambient light reflection. No flicker, no glare, no reflection, even in strong sunlight you will be able to read your documents easily.
 
Some of the main advantages of the Mobius screen:

Very lightweight!
A 13.3 "EPD Mobius weighs just 63g, whereas an EPD screen made of glass same size would weigh a full 144g.

Lowest power consumption
An EINK Mobius screen has the lowest power consumption level in the eReader industry. Unlike other technologies, an e-ink screen is bi-stable, which means that it does not need the power to hold an image or text page.

High Resolution:
2200x1650 pixels
Grayscale: 16 stepsContrast: 15: 1
 
Electromagnetic (WACOM) and capacitive dual touch screen.

With the supplied stylus, you can draw on the screen just as you would draw and write notes in your PDF documents with a real pen.
WACOM digitizer ensures precise lines.
In addition, thanks to the capacitive layer, you can control the Max2 with your fingers like ordinary Tablet PC.
 
Mechanical buttons

Four mechanical buttons: Menu, Back, Next Page and Previous Page.Very easy to use without touching the screen.
 
1.6 GHz quad-core processor

The latest high-performance quad-core processor enables even faster computation of complex rendering processes and makes working with your documents very comfortable.
 
Android 6.0.1 OS. Upgrade to Android 9.0 was announced

Take advantage of the huge range of software offerings that are compatible with this operating system.
Attention! Google Play Store works on all our devices. In order to use it, you just need to enable it
Click Settings-> Application and select the checkbox (Enable Google Play) to enable Google Play Framework. Then click on the CSF ID below to register this ID in your Google account. Sign in to your Google Account and just wait a few minutes for your device to be registered.
After that, you can find Play Store in your Applications, register and use Play Store as usual.
 
HDMI connection

The HDMI port implemented in this device allows you to connect your MAX2 PRO to a PC and use the device as a secondary monitor. So you can take care of your eyes additionally. Built-in
 
Speaker and microphone

For your music and voice recording. 3.5mm audio interface. Support text-to-speech function, playing music in the background, audiobooks.
 
High-speed WIFI + Bluetooth 4.0

Stronger WIFI antenna, more stable connection and faster download speed. Surf your favorite pages or upload files or ebooks quickly and conveniently. With integrated Bluetooth 4.0 technology, you can transfer your data without WIFI or use an external keyboard, pedals or audio devices. Efficient, fast, comfortable.
 
4GB RAM + 64G memory

4GB RAM + 64G internal memory - no more worries about memory. More apps, big files, everything you want on your device.
 
Multi-format support

Onyx Boox MAX2PRO supports the most common formats:
 
PDF EPUB TXT MOBI CHM DJVU HTML RTF FB2 DOC PDB etc. Text formats
JPG PNG BMP etc. image formats
MP3 WAV etc. audio formats
other special formats can be supported with third-party applications.
 
Mobility

7.5 mm thin, 550g weight, despite its close to A4 size it is still comfortable to handle  - both in the hands and in the bag.

Large capacity battery

With the 4100mAH lithium-polymer battery, you can achieve about 4 weeks of standby time.
 
Delivery:
Onyx Boox MAX2PRO 64 GB, BLACK.
Wacom E/M Stylus
USB cable
Micro HDMI to HDMI cable
Protective sleeve
S R.




IP: 51.195.149.144





Oct 20, 2020




Beeindruckendes Gerät mit augenschonendem Bildschirm – aber wie lange gut einsetzbar?

Fast war ich schon soweit, mich für eines dieser Geräte mit dem angenehm großen, lesefreundlichen Bildschirm entscheiden zu wollen. Nach einer ausgiebigen Internetrecherche bin ich nun leider etwas im Zweifel, wie lange meine Freude daran dauern würde.

Wie ich einigen Kundenhinweisen dort entnommen habe, meint die Firma es gut und stellt regelmäßig Programmaktualisierungen (firmware updates) in Aussicht. Angesichts der vielen Arbeit mit den neuen Modellen kommt sie leider aber wohl nicht immer dazu, ihre guten Absichten auch umzusetzen. Schade für die Kunden, für den netten Händler und letztlich auch für die Herstellerfirma selbst.

Bislang ist es offenbar auch noch nicht gelungen, den gerätebezogen angepassten Quellkode für Kernel und Bootloader zu veröffentlichen, wie deren Lizenz GPL es doch ausdrücklich verlangt. So können leider auch kaum freie Entwickler dazu beitragen, das Gerät aktuell zu halten.

Da das Android-Betriebssystem so weit verbreitet ist, stellt es leider auch ein interessantes Ziel für digitale Angriffe dar. Umso wichtiger wäre es daher natürlich, regelmäßige Sicherheitsaktualisierungen einspielen zukönnen. Wie lange Android 6.0 (bei dem es dann ja möglicherweise bleibt) noch gut im Internet verwendbar ist, erscheint leider nicht ganz sicher.

Die meiste Freude an dem Gerät mögen also vielleicht diejenigen haben, die es hauptsächlich zum bequemen Lesen von Pdf-Dateien verwenden wollen. Bleibt der drahtlose Internetzugang ausgeschaltet, hält ja auch der Akku viel länger.

Richard Sullivan




IP: 89.64.31.47





Jan 15, 2020




Onyx Max2 Pro. For me the best!

Onyx Max2 Pro is a really great device. Works smoothly with that specification. The battery is enough for days to work as a tablet. It is shipped with a stylus with a clip and some kind of etui/cover. I am using it with an external led lamp with two levels of brightness and proper angle of covering space by light. Now the device is complete and fully satisfying. Native apps work very well and are just enough for the tasks they presented in marketing materials. With ebooks and magazines, everything works great. This device works fine as the second monitor as well if we understand what E-Ink is and it's pros and cons. It is possible to use Google apps. We should remember that additional apps can shorten battery life, though. It's the best device for me I can buy and it is fully equipped. It's really worth buying it if the user can use the most of it. This seller is great as well!!
I Marius




IP: 147.86.207.6





Jan 21, 2019




Excellent for musicians

I've had this device for two weeks now and I'm really happy with it. I use it for:
1. Reading: the screen contrast is superb, the functions of the reader app very helpful, also with pdfs.
2. Music: I use Mobilsheets pro to display all my sheet music while in rehearsals and concerts. Singing in multiple choirs, this reduces the amount of sheet music I need to bring with me to zero. The device is a bit heavy at first, but you get used to it. For anyone only using it for singing, I would recommend getting the note oder note pro, as it is much lighter. I'm also getting my conductors and organists degree this summer, so I use the device to display my sheet music while conducting my choir and playing at the organ. So far I've had no problems with this either.
3. Taking notes: In university, I take notes all the time and organize them in the note app. This also brings down the count of physical paper I need to carry to and fro' the university.

All in all, I'm very happy and would recommend it to anyone who looks to read much and take notes often or musicians looking to eliminate their stock of sheet music :)
Only registered user can add review.
Login
Questions
(4)
From
Matej Mihelič
|
2019-09-05 11:44:06
Hi.
Does the protective sleeve provide a good enough protection for everyday carrying in a backpack or would you recommend a cover for protection? If a cover is advised, do you carry any in the store?

Regards, Matej.
administrator
Dear Matej,

thanks a lot for your interest in our products!

The protective sleeve protects against scratches. However, it is soft and does not protect again bending or pressure of hard stuff (e.g. an apple in your backpack) against the screen.
At the moment we don't have alternative covers (like flip cover) in stock. For transportation, I would suggest using something more stable anyway. There are plenty of designs of cases/bags for 13" tablets on the market.

From
Gábor Almási
|
2019-08-31 14:22:54
Hi!

I am thinking about buying this device from you. I want to use it for reading heavy pdf files (10-100 MB), and am wondering how fast it is to scroll down on a heavy file or to zoom into it? Is it possible to see a video of it?
Thank you in advance,
Gabor
administrator
Hi,

we have often tested our devices with bigger files (e.g. like scanned PDFs from archive.org up to 300MB) using our PDF reading software and there were no noticeable delays in comparison to regular size PDFs.
If you want us to take a video, please provide a sample file, we will test it for you and show you in a short video about how our devices handle it.
From
txeni
|
2019-08-27 18:03:45
Hi,

Thinking of getting a max2 and I was wondering, what kind of warranty do the come with?
Is it a warranty with the manufacturer or with you guys?
How long does the warranty lasts?
Do you provide documentation with this warranty's details?

Thanks!
administrator
Hi. We offer two years of seller warranty for devices, purchased in our store.
The manufacturer also offers one year warranty, but just in an unlikely case we would be not reachable for your service requests.
From
Björn Arnell
|
2019-08-09 00:05:05
Hi!
I was wondering if these Max 2 Pro are able to upgrade the firmware without problem? I have read on boox support page that quite a few was having trouble with the upgrade, and that it was specific to one custom made model or store , but I'm not sure where they have bought theirs.
Best wishes
Björn Arnell
administrator
There is no problem at all to update our products. Max2 Pro is also not an exemption. If you want we can prepare a Max2Pro and install latest update for you.

Your Question has been successfully sent our team. Thanks for question!
Customers who bought this product also bought:
13-3-inch-screen-reader
ONYX BOOX MAX LUMI SET
The first 13.3'' E Ink tablet employs the front light with CTM, upgraded octa-core...





(2)
digitizer-stylus
BOOX Marker Tips. Wacom Stylus Nibs
Original replacement nibs for Wacom styluses of Onyx professional and Boyue devices with...





(0)
accessoires
Onyx Boox Desk Stand
The  Boox Desk Stand designed to be able to use our tablets even more comfortably. Durable...





(0)