New products
protective-covers
Protective Cover Boox Note Series
Original Onyx Boox Note protective cover made of PU leather.





(0)
All new products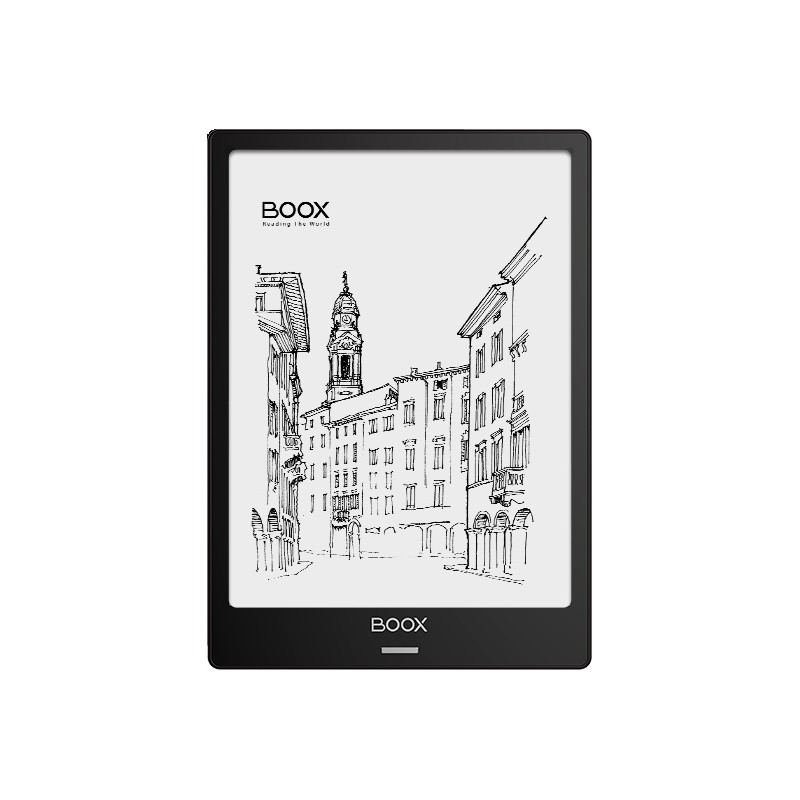  
Onyx Boox Note
Free Shipping (EU mainland)
ONYX BOOX NOTE is the newest and best  equipped 10.3" professional E-ink reader with Carta flexible screen, WACOM + Finger dual touch control, 1.6GHz 4xCore Processor, Android 6.0, USB-C, built-in Mic, WIFI and Bluetooth 4.0, 2G RAM+32G ...
Calculate Delivery Cost
Free shipping via UPS to EU for order value from 100 EUR. Low-priced shipping via UPS Express worldwide .

Returns accepted 14 days after delivery (please read our Terms and Conditions)
ONYX BOOX NOTE
With the 
10.3 "E Ink Carta Flexible Screen
Very sharp with the resolution of
1872x1404 pixels (227dpi)
and
high contrast (15:1)
. No glare or reflection. Energy efficient. Your eyes will thank you. The best way to read your documents in original A4 or US Letter format. E-Ink screen uses only ambient light reflection. No flicker, no glare, no reflection, even in strong sunlight you will be able to read your documents easily. 
Some of the main advantages of the Mobius screen:

Very light weight!
Lowest power consumption
High Resolution
: 
Electromagnetic (WACOM) and capacitive dual touch screen.
With the supplied stylus, you can draw on the screen just as you would draw and write notes in your PDF documents with a real pen.
WACOM digitizer ensures precise lines.
In addition, thanks to capacitive layer, you can control the Max2 with your fingers like ordinary Tablet PC. 
1.6 GHz quad-core processor
Latest high-performance quad-core processor enables even faster computation of complex rendering processes and makes working with your documents very comfortable.  
Android 6.0 OS
Take advantage of the huge range of software offerings that are compatible with this operating system.  
Speaker and microphone
For your music and voice recording. 3.5mm audio interface. Support text-to-speech function, playing music in the background, audio books.  
High speed WIFI + Bluetooth 4.0
Stronger WIFI antenna, more stable connection and faster download speed. Surf your favorite pages or upload files or ebooks quickly and conveniently. With integrated Bluetooth 4.0 technology, you can transfer your data without WIFI or use an external keyboard, pedals or audio devices. Efficient, fast, comfortable.  
2GB RAM + 32G memory
2GB RAM + 32G internal memory - no more worries about memory. More apps, big files, everything you want on your device. 
Multi-format support
Onyx Boox Note supports the most common formats: 
PDF EPUB TXT MOBI CHM DJVU HTML RTF FB2 DOC PDB etc. Text formats
JPG PNG BMP etc. image formats
MP3 WAV etc. audio formats
other special formats can be supported with third-party applications.  
Mobility
6.8 mm thin, 355g weight, despite its size it is still comfortable to handle  - both in the hands and in the bag.
Large capacity battery
With the 4100mAH lithium-polymer battery, you can achieve about 4 weeks of standby time. 
Scope of delivery

:
Onyx Boox Note
Wacom E/M Stylus
USB cable
Protective cover (optional kit)








Data sheet
Dimensions

249.5*177.8*6.8mm

Weight

355g

Display

10.3 " HD Mobius Carta Flexible Screen Resolution 1872x1404 Carta (227dpi)

Touchscreen

Wacom digitzier with stylus + capacitive touch

Processor

1.6GHz Quad-core

Memory

RAM 2GB LPDDR3 +32GB Storage

Connectivity

WiFi (802.11b/g/n) + Bluetooth4.1 + USB type C

Audio

Dual Speaker+ Mic + audio output via USB-C

Battery

4100mAh Polymer Li-on
S Martin




May 24, 2018

Review is pending moderation
G Antonio Rogério




IP: 186.249.85.55





May 2, 2018




Boox Note é o melhor de todos!

Recebi o meu Boox Note 31 dias no Brasil após o meu pedido. 10 dias foram apenas na alfândega em São Paulo (houve uma greve). Tirando isso foi tudo normal.

O aparelho é fantástico, o melhor e-reader de todos! Melhor que o Lobo Aura One (exceto pela luz alaranjada do Kobo) é muito melhor que Kindle Oasis também! Estou muito satisfeito!

Tive apenas uma surpresa, o idioma brasileiro não estava disponível. Mas estou me virando com o espanhol. Não é difícil, os menus são bem simples e funcionais.

A capa encaixa-se perfeitamente e é de ótima qualidade.

A caneta stylus é um diferencial, isso bastante, uma nova experiência para ler, fica mais real a leitura.

A digitalização é perfeita, muita sensibilidade, os traços ficam reais, os desenhos ficam ótimos.

A material realmente é muito boa, não deixa a desejar.

Os atendentes tem sido bastante atenciosos também e tem tornado a percepção da compra mais segura.

Parabéns a toda a equipe que desenvolveu e distribui ao mundo o Boox Note! Excelente trabalho!
N Mark




IP: 72.73.77.231





Apr 18, 2018




Onyx Boox Note with Protective Case

Suppose you want one, and only one, e-reading device. Which one should you choose?

It can feel like the story of Goldilocks and the Three Bears. A six inch device is fine for ePub and Kindle books, but too small for pdfs. The Max 2 is great for pdf, but a bit too big for reading eBooks. A device that is restricted to only Amazon or Kobo content doesn't allow you to add Instapaper or your favorite email app.

What if there were a device that was small enough for serious reading, large enough to use Splashtop to have your desktop or laptop display on it, and roomy enough for you to install whatever apps you want? Might that device feel... just right?

Enter the Onyx Boox Note. It is basically a reduced-size version of the Max 2. Its 10.3 inch display lands it right in between the 9.7 inch iPad and the 10.5 inch iPad Pro, yet it is lighter than either. Its 2 gb of RAM and quad-core processor make it more capable than older E-Ink devices. It runs Android 6.0 and includes Google Play Store, so you can install current versions of your favorite reading apps. It has 32 gb of internal storage, giving you plenty of room for your books, pdfs. and other files. Bluetooth gives you more connectivity options. The Note has two speakers. They aren't exactly top-of-the-line, but they'll do. (Bluetooth headphones are the way to go here!) The Note comes with a WACOM stylus. I haven't tried its note-taking features yet, though. You can also use the stylus instead of your finger on the touchscreen. The Note also comes with a protective case. Mine arrived today. It fits the Note very well, and has a slot for the stylus. The Note will go into sleep mode when the case is closed, and wake when it's opened.

The Note has no frontlight. It's not intended for dark places. Wherever you have enough light to comfortably read a paper book, you can comfortably use the Note. The Note has no sd card slot, either. But, given the 32 gb of internal storage, and how one can easily transfer files to and from one's desktop or laptop, this really isn't a big deal.

Compared to smaller E-Ink devices, the Note is not cheap. However, given that it is far more capable than older, smaller E-Ink devices have been, the price is reasonable. It is in line with the iPad and similar Android tablets.

If this weren't enough, I have found that Waldemar and the folks at the eReader Store are a pleasure to work with and communicate with. They care about their customers and do their best to support their products.

I haven't encountered any bugs or glitches on my Note yet. It seems that Onyx has come a long way in quality control from when they first introduced the T68 (bad memories for me there!).

So, if the Note feels "just right" to you, by all means, buy it! And, if you buy it, buy it from the eReader Store. You won't regret it.


L Johannes




IP: 190.101.50.161





Apr 11, 2018




The best e-reader and note taker so far

I have it for one week now. Really good for PDF documents.I like the option to take notes over pdf documents. I would love to have the option to use a pendrive to transfer documents.
P Yann




IP: 91.176.163.146





Apr 11, 2018




The best ereader I've seen sofar

It's fast and the display is excellent, better than everything I've seen sofar on an ereader. There are plenty of options. And ... surprised, I received the book cover that goes with it a few days after, not knowing it even existed. It fits perfectly with the reader, making it quick to turn off and of when one opens or closes the cover.
Really great ereader.
K Max ilya




IP: 49.180.49.207





Apr 11, 2018




Great product. Probably the best for its purporse on the market right now

I pre-ordered Boox Note a month ago and had it for a week now. The main purpose is to read a lot of pdfs (I am a researcher) and take notes, especially handwriting ones. Here is a summary of my experience so far:

Positive:
- Very fast for an e reader. Marginal/no lag from the pen
- Native note taking software is awesome. Great job!
- The screen is big enough for comfortably reading pdfs
- Very light, easy to carry around
- Looks and feels very nice/premium/stylish, both the ereader itself and the cover included
- Didn't crash once during a week of usage. The core software seems to be stable
- Battery is still over 50% after a week of casual usage out of the box (didn't charge it yet)

Negative
- No back/frontlight, so the background looks a bit grey. Very hard/sometimes not possible to read in the darker environments. Totally OK to read in natural light or with a headlamp etc.
- A bit pricey (but still a better value for the money compared to other models).

I didn't try other features like installing apps, synchronization with other devices etc, so this is still something to explore. Overall very good impressions and great help for researches and similar, hope to have a version of this with a front light in coming years.


S Ferenc




IP: 178.48.246.196





Apr 10, 2018




Arrived!

Everything is alright! :)
The World's Best Ebook Reader!
T Kim




IP: 223.33.165.134





Apr 1, 2018




Onyx Boox Note review

I've got my boox note on 3/22, and have been using it for about a week. It can read big pdf files with ease, and can crop pages fairly well. Supporting djvu and epub is also good. The wacom pen and speaker is also better than I thought, although I wouldn't use this as a drawing board or music player. It sometimes lags when I write too much with the pen and I hope it will be fixed in later updates. The big size makes reading much easier than the 6.7 inch one I used before, and I'm going to carry it everywhere when I get the protective cover. Best ereader when it comes to reading or studying.
Only registered user can add review.
Login
Questions
(48)
From
Martin Schmudermaier
|
2018-05-24 21:33:26
According to Paolos Question:
How can I read my exported files. They are all saved in a sub-folder from my original file on boox note - this sub-folder is just visible directly on boox, but not on my pc - how does it work to export the files on my pc?
administrator
Export from Neo Reader. When you export your annotated PDF , a sub-folder with the name of PDF will be created and in this sub-folder you will find the exported PDF. It will have same as the original pdf but with additional "-exported" extension. This sub-folder and files in it obviously can be accessed from PC or Mac

E.g. I have a PDF called "Thomas_Mann_-_Der_Zauberberg.pdf" in Books folder.
I do some annotations and export them. A new sub-folder in Books/ Thomas_Mann_-_Der_Zauberberg will be created
The file n it will be "Thomas_Mann_-_Der_Zauberberg-Exported.pdf"

Here is a screenshot how it looks like on my PC in Windows Explorer: https://clip2net.com/clip/m169244/5987f-clip-74kb.png?nocache=1
From
Mukesh
|
2018-05-21 11:05:53
Can Boox Note be used as a monitor also, like max? If so, can it be connected to as a display to the laptop, via USB-C port or wirelessly?


administrator
Note does not have HDMI output like Max2, therefor it cannot be used as external monitor in the same way. There are some life hacks (apps) , which allow to use Boox Note (like many others Android tablets) as monitor too, but they demand some technical experience of the user.


From
Mukesh
|
2018-05-21 11:00:00
Also adding to the questions, I just asked. While reading pdf files, can you pinch and zoom? Are both landscape and portrait modes possible? Do the orientation change automatically, as in most of the modern cell phones or does it have to be achieved by a setting, like in Kindle.
Is this orientation change (portrait to landscape and vice-versa) available to all the apps in Boox Note?
administrator
Yes, you can you pinch and zoom while reading pdf files and both landscape and portrait modes are possible. However, in order to save energy in optimal way, our current devices are not equipped with gyroscopic accelerometers, which are responsible for automatic orientation change.
From
Mukesh
|
2018-05-21 10:56:14
I have a lot of pdf files, which are scanned. In many cases, the file size is close to 200MB and number of pages around 500. How easy and convenient, it is to open and read these types of files? Can I take handwritten notes on these types of files and can these notes be saved in the pdf file (possibly with another name, so as not to alter the original)?
I have some pdf files, which are very large in terms of page size (close to 6000) but file size is less than 50MB. Would I be able to read these files and search the text in these files, without too much delay?
administrator
We have tested some scanned PDFs upto 150 MB size. with 900-1200 pages from archive.org. First opening took about 10 seconds. Repeated openings - 4-5 seconds. Page turn without reading (just clicked to next page immediately after current page appears) - delay 1-3 seconds. If you ar reading (stay on the page for at least 6-10 seconds) , the next page will be pre-rendered in background and after click to the next page, it appears immediately without delay.
From
Faouzi
|
2018-05-21 03:58:27
I was been using Note for a couple of months now; experience is good overall. I am wondering if there is a way to add templates to Note app (i.e. pdf files I built) to use like daily To-DOs or planners. In case, that's not considered, what other possible ways to change existing template samples?
administrator
Yes, the Note app has been completely refactored and using user templates will be one of the features of it. It will be available in next update in June (just in a couple of weeks).
Your Question has been successfully sent our team. Thanks for question!
Customers who bought this product also bought:
accessoires
Boox Desk Stand
The  Boox Desk Stand designed to use with Onyx Boox Max (Carta) or Max2 Professional. Durable...





(0)
digitizer-stylus
Stylus for Max2 , Note (Wacom)
Replacement Stylus for Onyx Boox Max2 Professional and Onyx Boox Note  (equipped with...





(0)
protective-covers
Protective Cover Boox Note Series
Original Onyx Boox Note protective cover made of PU leather.





(0)