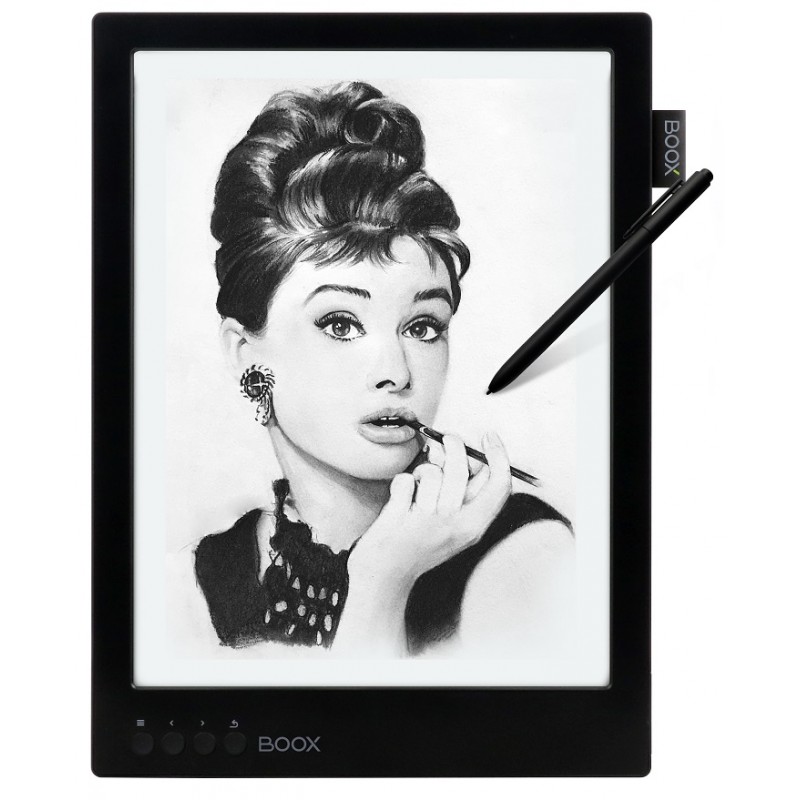  
ONYX BOOX MAX2 (32GB, BLACK)
Free Shipping (EU mainland)
ONYX BOOX MAX2 is a professional best equipped 13.3" E-ink reader with Carta flexible screen, WACOM + Finger dual touch control, 1.6GHz 4xCore Processor, Android 6.0, HDMI, built-in Mic, WIFI and Bluetooth 4.0, 2G RAM+32G ...
Calculate Delivery Cost
Free shipping via UPS to EU for selected products and from 550 EUR. Low-priced shipping via UPS Express worldwide .

Returns accepted 14 days after delivery (please read our Terms and Conditions)
ONYX BOOX MAX2.  Professional Series
With the huge
13.3 "E Ink Carta Flexible Screen
A really fantastic big screen with ambient light reflection. Very sharp with the resolution of 2200x1650 pixels and high contrast (15:1). No glare or reflection. Energy efficient. Your eyes will thank you. The best way to read your documents in original A4 or US Letter format. E-Ink screen uses only ambient light reflection. No flicker, no glare, no reflection, even in strong sunlight you will be able to read your documents easily. 
Some of the main advantages of the Mobius screen:

Very light weight!
A 13.3 "EPD Mobius weighs just 63g, whereas an EPD screen made of glass  in same size would weigh a full 144g.
Lowest power consumption
An EINK Mobius screen has lowest power consumption level in the eReader industry. Unlike other technologies, an e-ink screen is bi-stable, which means that it does not need power to hold an image or text page.
High Resolution
:
2200x1650 pixels
Grayscale: 16 stepsContrast: 15: 1  
Electromagnetic (WACOM) and capacitive dual touch screen.
With the supplied stylus, you can draw on the screen just as you would draw and write notes in your PDF documents with a real pen.
WACOM digitizer ensures precise lines.
In addition, thanks to capacitive layer, you can control the Max2 with your fingers like ordinary Tablet PC. 
Mechanical buttons
Four mechanical buttons: Menu, Back, Next Page and Previous Page.Very easy to use without touching the screen.  
1.6 GHz quad-core processor
Latest high-performance quad-core processor enables even faster computation of complex rendering processes and makes working with your documents very comfortable.  
Android 6.0.1 OS
Take advantage of the huge range of software offerings that are compatible with this operating system.  
HDMI connection
The HDMI port implemented in this device allows you to connect your MAX2 to a PC and use the device as a secondary monitor. So you can take care of your eyes additionally. Built-in 
Speaker and microphone
For your music and voice recording. 3.5mm audio interface. Support text-to-speech function, playing music in the background, audio books.  
High speed WIFI + Bluetooth 4.0
Stronger WIFI antenna, more stable connection and faster download speed. Surf your favorite pages or upload files or ebooks quickly and conveniently. With integrated Bluetooth 4.0 technology, you can transfer your data without WIFI or use an external keyboard, pedals or audio devices. Efficient, fast, comfortable.  
2GB RAM + 32G memory
2GB RAM + 32G internal memory - no more worries about memory. More apps, big files, everything you want on your device. 
Multi-format support
Onyx Boox MAX2 supports the most common formats: 
PDF EPUB TXT MOBI CHM DJVU HTML RTF FB2 DOC PDB etc. Text formats
JPG PNG BMP etc. image formats
MP3 WAV etc. audio formats
other special formats can be supported with third-party applications.  
Mobility
7.5 mm thin, 550g weight, despite its close to A4 size it is still comfortable to handle  - both in the hands and in the bag.
Large capacity battery
With the 4100mAH lithium-polymer battery, you can achieve about 4 weeks of standby time. 
Delivery

:
Onyx Boox Max2
Wacom E/M Stylus
USB cable
micro HDMI to HDMI cable
Protective sleeve
M John Peter




IP: 80.229.137.63





Apr 16, 2018




Excellent!

Coming to the Boox Max2 from a secondhand Boox M96, I already knew the benefit of having an e-reader running Android. But the Max2 is so much bigger, faster and easier to read than the M96. Excellent for reading my electronic newspaper (The Guardian) and Twitter, before getting down to reading my books. Have loaded both the Amazon Kindle and Kobo software, so not tied to either source for books. Also very impressed with Google Translate on the Max2, as handwriting recognition is possible using the Max2's Stylus. Had to load the latest firmware from Onyx-International to get Google Play Services installed properly.
R Sławomir




IP: 89.64.33.46





Mar 29, 2018




Onyx Max 2. For me the best!

Onyx Max 2 is a really great device. Works smoothly with that specification. The battery is enough for the hole day work as tablet. It is shipped with stylus with a clip now and some kind of etui/cover. Seller additionally give hybrid (3xAAA or USB cable) external led lamp with two level of brightness and proper angle of covering space by light. Now the device is complete and fully satisfying. Native apps work very well and are just enough for the tasks they presented in marketing materials. The only one negative surprise was discovery that it's impossible to copy some part of the text from browser to notes. It should be possible to do so using such device! at least text copy, nice if additionally to see possibility of taking screenshot an make annotation on them. With ebooks and magazines everything work great. I'm not sure how to properly move on with this device in etui. It is safe for the device if it will be a little pressure on the e-ink display when keeping in etui while moving on. Manual doesn't include such information so can someone answer this? This device works fine as second monitor as well if we understand what eink is and it's pros and cons. After last update (of March) it is possible to use own Google apps that was already paid. We should remember that additional apps can shorten battery life. The only issue I have with this device is that I cannot pair it with my bluetooth keyboard Logitech K480. Once again when software reach possibilities to copy text from external app like web browser to notes I will be fully happy with this device. Anyway it's the best device for me I can buy and it is fully equipped. It's really worth to buy it if user can use the most of it. This seller is great as well!!. ... By the way there is no sense to buy/sell your screen protector because it is glossy which is contradiction to using eink. It should be matte in my opinion and clearly describe on your page.
O Ruben




IP: 80.187.110.71





Mar 26, 2018




Bestes eink Gerät

Ein super eink Tablet, ersetzt momentan meinen Computer nahezu komplett. Im Studium eine sehr große Erleichterung um eingescannte Bücher zu lesen und Mitschriften mit Bluetooth keyboard zu machen.

Was mich jedoch immer wieder ärgert ist, dass der Stylus keinen Clip zum befestigen hat, das Gerät hat eine Schlaufe für den Stylus, aber er hält darin nicht. Bei einem 800€ Gerät ist das schon ein sehr grober Design Fehler, da hätte durchaus mal jemand nachdenken können.

Auch ist es schade, dass der Stylus in vielen Drittanbieter apps etwas langsam ist und die Onyx eigene app keine halbtransparente Marker oder einen weißen Stift für dunkle Seiten anbietet (kommt hoffentlich noch)

Trotzdem ist das Gerät auf jeden Fall Konkurrenzlos und für mich die beste Investition in Technik die ich je getätigt habe. Die Dinge die mich noch stören machen es in keinem Fall zu einem deal-breaker
Only registered user can add review.
Login
Questions
(8)
From
Mykhailo Rusin
|
2019-01-15 13:39:18
Is led lamp for Onyx Boox MAX 2 available for purchase?
Thanks!
From
Lia
|
2018-11-21 20:35:51
What is a non Eu customer? I am Brazilian visiting a friend in Ireland. Can I buy it and get it delivered to Dublin with a discount price, please ?
administrator
Dear Lia,


thanks a lot for your interest in our products!

For EU shipping addresses we have to charge German VAT in invoice, even the buyer is a non-EU citizen. But we do refund pre-paid VAT if you provide a proof of exporting of the item.

If you purchase a product in our store, you will receive an invoice (you can also download and print it from your account in our store at any time).
When you are going to leave EU, you can go to the custom office in airport or on boarder control point and ask them to stamp your invoice in order to confirm the export of purchased goods.
Afterwards just send the stamped invoice back to our office (as letter or registered letter) and as soon as we got it, we will refund prepaid VAT accordingly to your selected payment method. E.g. PayPal, bank wire or credit card.

From
Barbora K
|
2018-07-24 08:06:02
Hi, we would like to buy 5 pieces for our project team (epistemology project so lots of pdf reading) in Prague, Czech republic. Is it possible to buy your OB MAX2 on order and pay the invoice (we are a public institution, the academy of sciences) or it has to be paid immediately (what is institutionally more complicated)? And, papers mostly in English, Czech, Russian and German, which version to order, MAX2 or MAX2 Pro?
THX for your answer
administrator
Hi,

thanks a lot for your interest in our products!

To public institution we can deliver on order and you can pay the order within of 14 days after delivery.
Our international invoices are in English.
If you can provide a valid VAT ID, our VAT will not be charged in your invoice.
There is only one version of Max2. Sometimes it is called as Max2PRO (it was the first naming of this device, which has been reduced to Max2

If you want to place your order, you can order it online in our store and select bank wire as payment method. Afterwards we will ship it to you without waiting for payment.

From
Clayton Micallef
|
2018-07-20 21:07:59
Dose it come with a cover or case please?
administrator
Hi,
Yes, there is a protective cover (sleeve) made of felt in scope of delivery of Max2
From
AD
|
2018-04-07 09:11:05
Is the current listed Onyx Boox Max2 fine for international (English speaking) use?
administrator
Yes, it is absolutely OK for english speaking use.
Your Question has been successfully sent our team. Thanks for question!
Customers who bought this product also bought:
protective-covers
PU Leather Protective Cover Max Series
Original Onyx Boox Max series protective cover made of PU leather.





(0)
digitizer-stylus
Stylus Max,N96, M96 (Large)
Replacement Stylus for Onyx Boox Max, N96 and M96 with digitizer.  It is also compatible...





(0)
wall-charger
Wall Charger USB Adapter (Black)
Compatible for all devices with USB port: Ereader, Smartphones, Cameras, Tablets or Laptop....





(0)