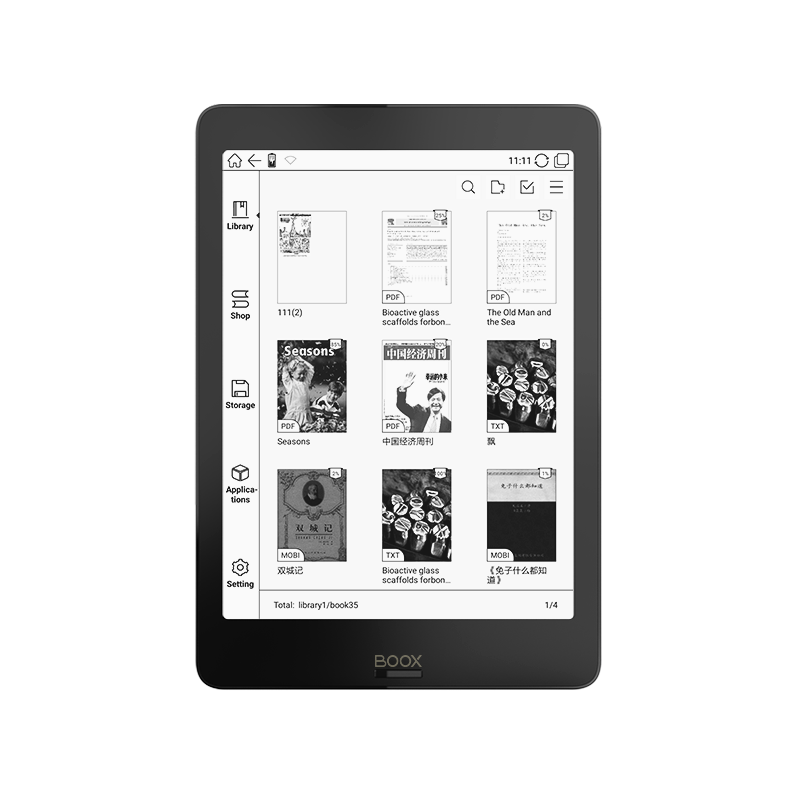  
Onyx Boox Nova Plus
The Onyx Boox Nova Plus is the successor of our bestseller Nova. Now with flush glass screen.. Noble design, 7.8 "E-Ink Carta HD screen with a resolution of 1872 × 1404 and 300 PPI, front light with color temperature system with 1.6 GHz quad-core processor (as in Boox Note) 32 GB memory, 2 GB RAM, USB-C, 2800 mAh battery and Android 6.0.1
Free shipping via UPS to EU for selected products and from 550 EUR. Low-priced shipping via UPS Express worldwide .

Returns accepted 14 days after delivery (please read our Terms and Conditions)

Onyx Boox Nova- the Queen among 8" Ereaders

With the  flush 7.8 "E Ink Carta Screen + Integrated Front Light with light color selection system
 
Very sharp with the resolution of 1872x1404 pixels (300ppi) and high contrast. No glare or reflection. Energy efficient. Your eyes will thank you. Comfortable reading in strong sunlight as well as in dark ambient .
 
Some of the main advantages of the E-ink screen:

Lowest power consumption
High Resolution:
 
Capacitive touch screen.

Thanks to capacitive layer, you can control the Boox Nova with your fingers like ordinary Tablet PC.
 

1.6 GHz quad-core processor

Latest high-performance Cortex-A17 quad-core processor enables even faster computation of complex rendering processes and makes working with your documents very comfortable.
 
Android 6.0.1 OS

Take advantage of the huge range of software offerings that are compatible with this operating system.
 
 
High speed WIFI + Bluetooth 4.1

Stronger WIFI antenna, more stable connection and faster download speed. Surf your favorite pages or upload files or e-books quickly and conveniently. With integrated Bluetooth 4.1 technology, you can transfer your data without WIFI or use an external keyboard, pedals or audio devices. Efficient, fast, comfortable.
 
2GB RAM + 32G

2GB RAM + 32G storage  no more worries about memory. More apps, big files, everything you want on your device.
 
Multi-format support

Onyx Boox Nova supports all most common formats
 
other special formats can be supported with third-party applications.
 
Mobility

7.7 mm thin, 240g weight, despite its size it is still very light weighted and comfortable to handle  - both in the hands and in the bag.

Large capacity battery

With the 2800mAH lithium-polymer battery, you can achieve about 2-3 weeks of standby time.
 
Scope of delivery:

Onyx Boox Nova
USB-C cable







Data sheet
Dimensions

196*137* 7.7mm

Weight

240g

Display

7.8 " E-inc Carta Screen Resolution 1872x1404 Carta (300ppi) Front Light with color temperature system

Touchscreen

capacitive touch

Processor

Cortex-A17 Quad-Core 1.6GHz

Memory

RAM 2GB LPDDR3 +32GB Storage

Connectivity

WiFi (802.11b/g/n) + Bluetooth 4.1 + USB-C

Audio

via BT or USB-C

Battery

2800mAh Polymer Li-on
No customer reviews for the moment.
Only registered user can add review.
Login
Questions
(6)
From
Guenther Klimmeck
|
2019-11-06 17:16:09
Is a Kindle app installed and can it read Kindle books
administrator
Kindle app is not pre-installed, but you can install it either from the App Store (installed) or download it from Play Store (needs to be enabled).
You of course can read Kindle books using this app
From
Allan Lykke
|
2019-11-03 20:20:29
Is a stylus included?
administrator
Nova Plus does not have digitizer so it does not support stylus.
Of Nova series only Nova Pro does have digitizer and stylus.
From
Guenther Klimmeck
|
2019-11-02 14:42:17
Hallo Sales Management, I live in Switzerland (it`s not an EU country) for costumer reason I like to have the device delivered to an address in Germany, why do I got charged € 248.00 instead of €210.00 export price for non-EU or EU B2B customers (tax excl.) as offered.
Kind regards

G . Klimmeck
administrator
The shipping address does matter for our taxation. If the shipping address is within of EU (even the invoice address is not) we have to charge our VAT.
However if you can provide export proof (like simple stamp by customs office on our invoice on the boarder) - we refund 100% prepaid VAT.
From
Alex Golubtsov
|
2019-10-29 22:19:11
Is there any warranty for this book?
administrator
We offer two years of warranty and three years of general support for every EINK tablet sold in our store
From
Valery Alexeev
|
2019-08-25 08:25:10
Why is the Onyx Boox Nova Plus model not on the official website?
administrator
Because we indeed are the very first distributor of this model. Onyx mention this model as the upcoming model (Nova successor) in the Nova Pro description. It will be offered by Onyx a few weeks later.
Your Question has been successfully sent our team. Thanks for question!
Customers who bought this product also bought:
wall-charger
Wall Charger USB Adapter (Black)
Compatible for all devices with USB port: Ereader, Smartphones, Cameras, Tablets or...





(1)
protective-covers
Protective Cover Boox NOVA Series
Original Onyx Boox NOVA protective cover made of PU leather.





(1)