 
Onyx Boox Nova Pro
The Onyx Boox Nova Pro is the extended version of  of very successful Boox Nova. The wait was worth it. Noble design, 7.8 "E-Ink Carta HD screen with a resolution of 1872 × 1404 and 300 PPI, front light with color temperature system with 1.6 GHz quad-core processor (as in Boox Note) 32 GB memory, 2 GB RAM, USB-C, 2800 mAh battery and Android 6.0.1  In addition, Nova Pro is equipped with a WACOM digitizer to make notes with the stylus in the best quality possible.
Free shipping via UPS to EU for selected products and from 550 EUR. Low-priced shipping via UPS Express worldwide .

Returns accepted 14 days after delivery (please read our Terms and Conditions)

Onyx Boox Nova Pro - the Queen among 8" Ereaders

With the  7.8 "E Ink Carta Screen + Integrated Front Light with light color selection system
 
Very sharp with the resolution of 1872x1404 pixels (300ppi) and high contrast. No glare or reflection. Energy efficient. Your eyes will thank you. Comfortable reading in strong sunlight as well as in dark ambient .
 
Some of the main advantages of the E-ink screen:

Lowest power consumption
High Resolution:
 
Electromagnetic (WACOM) and capacitive dual touch screen.

With the supplied stylus, you can draw on the screen just as you would draw and write notes in your PDF documents with a real pen.
WACOM digitizer ensures precise lines.

Thanks to capacitive layer, you can control the Boox Nova with your fingers like ordinary Tablet PC.
 

1.6 GHz quad-core processor

Latest high-performance Cortex-A17 quad-core processor enables even faster computation of complex rendering processes and makes working with your documents very comfortable.
 
Android 6.0.1 OS

Take advantage of the huge range of software offerings that are compatible with this operating system.
 
 
High speed WIFI + Bluetooth 4.1

Stronger WIFI antenna, more stable connection and faster download speed. Surf your favorite pages or upload files or e-books quickly and conveniently. With integrated Bluetooth 4.1 technology, you can transfer your data without WIFI or use an external keyboard, pedals or audio devices. Efficient, fast, comfortable.
 
2GB RAM + 32G

2GB RAM + 32G storage  no more worries about memory. More apps, big files, everything you want on your device.
 
Multi-format support

Onyx Boox Nova Pro supports all most common formats
 
other special formats can be supported with third-party applications.
 
Mobility

7.7 mm thin, 240g weight, despite its size it is still very light weighted and comfortable to handle  - both in the hands and in the bag.

Large capacity battery

With the 2800mAH lithium-polymer battery, you can achieve about 2-3 weeks of standby time.
 
Scope of delivery:

Onyx Boox Nova Pro
Wacom Stylus
USB-C cable







Data sheet
Dimensions

196*137* 7.7mm

Weight

240g

Display

7.8 " E-inc Carta Screen Resolution 1872x1404 Carta (300ppi) Front Light with color temperature system

Touchscreen

capacitive touch + Wacom Digitizer

Processor

Cortex-A17 Quad-Core 1.6GHz

Memory

RAM 2GB LPDDR3 +32GB Storage

Connectivity

WiFi (802.11b/g/n) + Bluetooth 4.1 + USB-C

Audio

via BT or USB-C

Battery

2800mAh Polymer Li-on
S Stefan




IP: 95.90.190.73





Mar 31, 2019




Boox Nova Pro

Bin sehr zufrieden mit dem Gerät! Als E-Book-Reader sehr gut, als Notizblock immer noch sehr brauchbar - trotz des Glasdisplays ist dank des Stifts ein doch recht schönes Schreibgefühl vorhanden. Leider nicht ganz so sehr, wie bei dem alten Note-Modell, das keinen Glasscreen hatte.
Licht funktioniert prima.
Es bleiben die updates abzuwarten, die Schrift-auf-PDF-Funktion, die etwas langsam beim ZOOMEN reagiert (nicht beim Schreiben) soll wohl verbessert werden.
Für das Geld eine klare Empfehlung. Wer nicht gerade den ganzen Tag DinA4.-Format oder Zeitung liest, ist mit 7,8 Zoll gut bedient.

Only registered user can add review.
Login
Questions
(9)
From
anon
|
2019-08-12 10:07:46
Are the Nova Pro, available in the store, updated (to the 2.1 version) or should the buyers do the update by themselves? (In the second case, could you provide a link to a "tutorial"? I have read there might be problems after this manipulation. Thanks!)
administrator

Our latest batch of Nova Pro is just a few days old and should be factory installed latest software version.

The updating process is very simple. Just connect your Nova Pro to the internet. If an update is available, you will be able to see, that the settings icon changes (it signals that an update is available). Just go to the settings menu ->Firmware Update and confirm.

Best Regards
Ereader Store Service Team
From
Mark
|
2019-03-16 16:28:11
I cannot decide between this device and the Likebook Muses. I mainly want to read on the Kindle App, but do not want to be locked into a Kindle Paperwhite.
Having the Play Store without hacking would be a nice plus, as is the Wacom Digitizer for doodling. Based on this, good refresh is important for me, I think.
Which would you then recommend more? This or the Likebook Muses?
administrator
Thanks for your interest in our products!
Both devices are good for your purpose. The Nova Pro does have a flush screen (more convenient for handwriting) and Muses - speakers (if you want to hear music or audiobooks without headphones ). Both devices allow using of Play Store and are similar fast.
Both devices are of excellent quality.
Muses is less expensive, though, so probably for your particular purpose I would suggest giving a try to it
From
Jernej
|
2019-03-15 15:53:57
Is Play Store pre-installed in Nova Pro (been comparing this to Likebook Muses, which apparently avaits the upgrade on this topic). Thanks in advance!
administrator
On both devices (Nova Pro and Muses) Play Store is pre-installed now and must be just enabled in settings.
From
Jahanzeb Bhatty
|
2019-03-13 22:21:21
Is the screen on the Nova Pro flush or is it like the Mimas screen?
administrator
The screen of Nova pro is completely flush
From
DJL
|
2019-03-13 09:10:42
Exporting notes and highlights is very important for me.

(1) can I use Google Play Books app on this device and save notes and highlights to my Google Drive (this is how the app usually works)

(2) how are PDF notes exported and stored? Can I export them to Evernote?

(3) is there a review anywhere that explains notes and how to store them?

Thanks
administrator
Hi,
1. Yes, you can do it
2. PDF Notes can be exported as a copy of the original PDF document with all your note (export folder); as just pages with annotations (PDF or PNG), as a text file containing your highlighted text parts from PDF document and your comments to them)
3. We are going to make a detailed review about notes functionality soon after the software version 2.1 has been released since it has a lot of new functionality.
Your Question has been successfully sent our team. Thanks for question!
Customers who bought this product also bought:
accessoires
Screen Protector 10.3
Screen protector suitable for Onyx Boox Note series  and Byue Mimas
Protects against...





(0)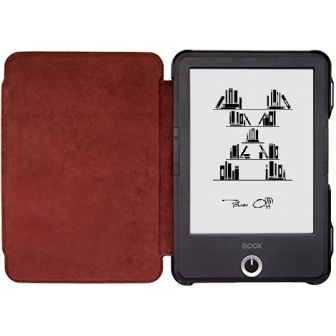 protective-covers
T76/T68 Cover with "wake up" function
The original Onyx Boox T76 / T68 cover interacts with the Boox. When you close the cover -...
€5.88
Regular price
€15.882353
Price





(0)
digitizer-stylus
BOOX Marker Tips. Wacom Stylus Nibs
Original replacement nibs for Wacom styluses of Onyx professional and Boyue devices with...





(0)