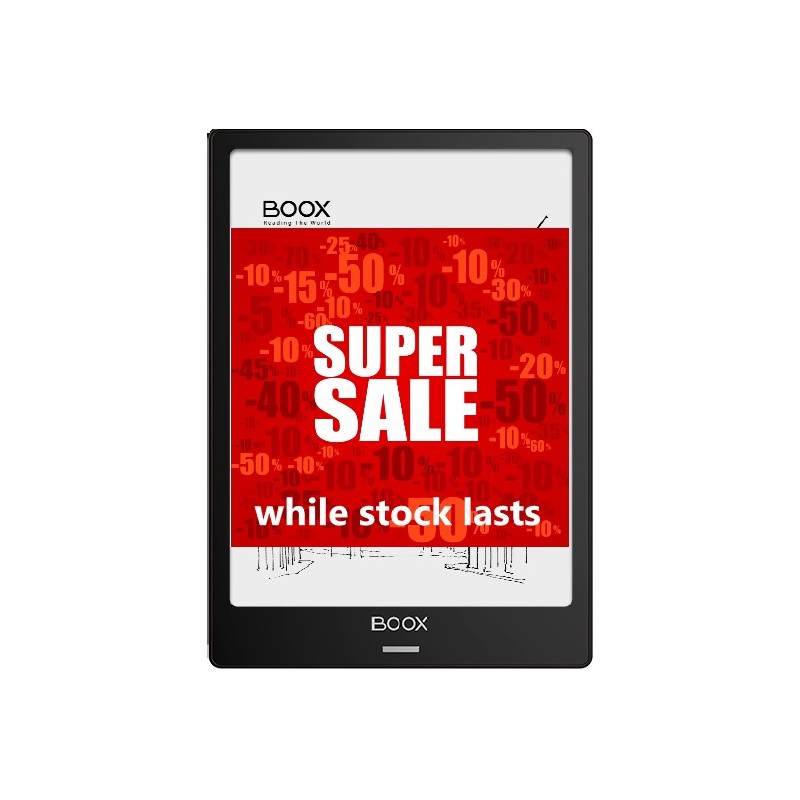  
Onyx Boox Note
ONYX BOOX NOTE is the newest and best  equipped 10.3" professional E-ink reader with Carta flexible screen, WACOM + Finger dual touch control, 1.6GHz 4xCore Processor, Android 6.0, USB-C, built-in Mic, WIFI and Bluetooth 4.0, 2G RAM+32G ...
Free shipping via UPS to EU for selected products and from 550 EUR. Low-priced shipping via UPS Express worldwide .

Returns accepted 14 days after delivery (please read our Terms and Conditions)

ONYX BOOX NOTE
With the  10.3 "E Ink Carta Flexible Screen
 
Very sharp with the resolution of 1872x1404 pixels (227dpi) and high contrast (15:1). No glare or reflection. Energy efficient. Your eyes will thank you. The best way to read your documents in original A4 or US Letter format. E-Ink screen uses only ambient light reflection. No flicker, no glare, no reflection, even in strong sunlight you will be able to read your documents easily.
 
Some of the main advantages of the Mobius screen:

Very light weight!
Lowest power consumption
High Resolution:
 
Electromagnetic (WACOM) and capacitive dual touch screen.

With the supplied stylus, you can draw on the screen just as you would draw and write notes in your PDF documents with a real pen.
WACOM digitizer ensures precise lines.
In addition, thanks to capacitive layer, you can control the Note with your fingers like ordinary Tablet PC.
 

1.6 GHz quad-core processor

Latest high-performance quad-core processor enables even faster computation of complex rendering processes and makes working with your documents very comfortable.
 
Android 6.0 OS

Take advantage of the huge range of software offerings that are compatible with this operating system.
 
Speaker and microphone

For your music and voice recording. USB-C audio interface. Support text-to-speech function, playing music in the background, audio books.
 
High speed WIFI + Bluetooth 4.0

Stronger WIFI antenna, more stable connection and faster download speed. Surf your favorite pages or upload files or ebooks quickly and conveniently. With integrated Bluetooth 4.0 technology, you can transfer your data without WIFI or use an external keyboard, pedals or audio devices. Efficient, fast, comfortable.
 
2GB RAM + 32G memory

2GB RAM + 32G internal memory - no more worries about memory. More apps, big files, everything you want on your device.
 
Multi-format support

Onyx Boox Note supports the most common formats:
 
PDF EPUB TXT MOBI CHM DJVU HTML RTF FB2 DOC PDB etc. Text formats
JPG PNG BMP etc. image formats
MP3 WAV etc. audio formats
other special formats can be supported with third-party applications.
 
Mobility

6.8 mm thin, 355g weight, despite its size it is still comfortable to handle  - both in the hands and in the bag.

Large capacity battery

With the 4100mAH lithium-polymer battery, you can achieve about 4 weeks of standby time.
 
Scope of delivery:
Onyx Boox Note
Wacom E/M Stylus
USB cable
Protective cover (optional kit)








Data sheet
Dimensions

249.5*177.8*6.8mm

Weight

355g

Display

10.3 " HD Mobius Carta Flexible Screen Resolution 1872x1404 Carta (227dpi)

Touchscreen

Wacom digitzier with stylus + capacitive touch

Processor

1.6GHz Quad-core

Memory

RAM 2GB LPDDR3 +32GB Storage

Connectivity

WiFi (802.11b/g/n) + Bluetooth4.1 + USB type C

Audio

Dual Speaker+ Mic + audio output via USB-C

Battery

4100mAh Polymer Li-on
M Guram




IP: 168.150.122.174





Apr 21, 2019




A review after a month of use

I have been using my new Boox Note for a few weeks, I wanted to get some experience with it before reviewing it. At this point I can say that this gadget matched and topped my expectations in all regards. I will go into details below.

READING:
I have had kindle paper white for a few years. It does a good job with fiction (which can be found in epub and similar formats) but it doesn't do a very well with technical literature (mostly pdf or djvu). Boox note in perfect for this purpose: The main advantage in this regard is the large screen which fits the whole pdf page well, + good hardware (processor and ram) which allows to flip through pages quickly, go back and look up information from previous pages.
Easy navigation, bookmarks, notes and so on. No need to mention there are all standard e-reader features like highlight, search, translate,

WRITING
another important aspect is note taking app and ability to write in the empty areas of pdf-s. This brings the experience of boox note very close to real paper.
The stylus pen experience is great: I applied the screen protector, and writing on top of it is a smooth and non-slippery (in contrast from writing on glass, like Ipad or newer versions of boox note).
It is very comfortable to take notes in class. The s-pen isn't very accurate at the very edges of the screen, otherwise it is not much different from actual notebook, except that it has many useful features: copy-paste, rescale, erase, pen thickness and so on. There is absolutely no noticeable lag during writing.
One can also write in the PDF-s which is one of my favorite features. There is no shame accompanying it since you are not spoiling the actual book :)). While reading physics literature, I can zoom in empty areas and derive steps that were left out. additionally there is a notebook automatically attached to each pdf: it can be opened side by side with the pdf and one can be taking notes in it while reading.

STAYING ORGANIZED
I do not need to think what notebooks and books I need for classes each day. I will never loose or throw out the notebooks, the notes I make in my pdf-s are there for me forever and will help me easily remember what I understood once.
The notes can be synchronized with dropbox (or several other options), so they will appear on your PC automatically with no further pain.
Same goes for the notes in PDF-s one simply needs to click "export" and the pdf with notes will appear on PC.
Getting books to your tablet is also easy: one can use browser (e.g. chrome) to download material directly, use google drive or dropbox to download books from cloud, or use cable, WiFi direct or Bluetooth to transfer books from your laptop.

SCREEN
As mentioned above, the screen is large enough for reading most pdf-s comfortably without zooming or cropping. As I understand there is a tradeoff for large size, because the white isn't as white as for kindle paper-white, but I did not notice it until I placed the two side by side.
I have read in many reviews that screen is easy to scratch so I recommend to apply the protector at once. It isn't easy to get rid of air bubbles. A suggestion is to do it in the bathroom with hot water running in the shower to cause high humidity. This will help because the air bubbles are caused by dust particles on the screen and high level of humidity cleans the air of dust.

OS
The OS is alright, one can see that it has gone through many update cycles. Since it is an android, you can install all the different apps like chrome, drive, dropbox, gmail etc.
There still are minor hiccups but nothing essential. All the important bugs have been fixed in early updates. Onyx has a helpful customer service team and the software engineers seem to be taking user feedback seriously. The updates are being released every now and then and it is a great feeling when gadget gets new features automatically.
The OS being android means that there are background processes so the battery won't last for weeks, but the low energy consumption by the screen still gives you a few days without charging.

EREADER.STORE
The prices on gadgets on ereader.store were much lower compared to amazon, and the e-reader selection was larger. So I ordered my Boox Note here and shipped it to California. The shipping process took just 2-3 days.
Last but not least, the interaction with staff of eReader.Store was a very pleasant and helpful experience.

I recommend boox note as your ultimate reading/note taking gadget and there's certainly no better place to buy it than ereader.store
R Tudor




IP: 109.102.149.105





Jan 1, 2019




Good product,

The product is pretty cool. It does have some flaws, but it seems to be the better choice compared to the other 2 competitors.

S Jose




IP: 177.149.58.118





Jul 11, 2018




Idioma Brasileiro Não esta Bom

It seems that there is no way, Onyx put the language "Portugues Brasil", but it did not work. The Brazilian language is all messed up, mixed with English and without a dictionary, my only alternative is still the Spanish and the Amazon Kindle App ... I'm glad that it's a great android device that although I'm not satisfied with my language it's worth compensating a lot, due to the various features that iTunesOnline offers, making the language issue less important, after all you can install several applications like Kindle, Kobo, Moon-reader and many others. In fact I wanted to be able to try the Onyx Note app, but because it does not have the Portuguese dictionary Brazil does not. That's it, everyone, there's no way ... BUT HERE IS HERE A NEW REQUEST TO THE ONYX TEAM IF POSSIVELY OF A REVIZADA IN THE BRAZILIAN LANGUAGE INSTALLED IN ONYX NOTE I do not want to be annoying, but if it's not possible, there's no problem, Onyx Note remains the best reading device I have ever had, the language is just a detail that would make it excellent. Thank you.
O Sorcha




IP: 95.44.39.196





Jul 4, 2018




Overall happy but a few glitches

Overall I'm quite happy with this device.
I received it in good time in a strong box. It has really made a difference for me in terms of being able to use documents without a bulky laptop or bright screen as I've severe eye sensitivity.
I like its versatility and features. Some apps are not so good since it is e-ink but many apps work well. Its size is convenient for carrying and comfortable design of device and pen and a nice sleep case too. Documents are manageable but sometimes I wonder if I should have got the Max2 instead to have an even better experience with A4 documents.
However there are some glitches I find. Some minor and one major. For now, I'd give 3.5 stars.
- Close to the edges of the note, taking, the drawing gets thin and distorts (ie not landing exactly where you drew). This is a greater nuisance when taking side notes because the space to draw is already quite small so this further restricts it.
- When starting text-to-speech, sometimes it doesn't start but automatically pauses then skips a line or 2. This is frequent.
- Sometimes note-taking vanishes. Usually I notice pretty quickly and haven't lost much work and can get it working by exiting and re-loading but sometimes it takes a few tries. That could be a major problem if you're doing more important work and don't know to frequently check this. Today however, despite having saved my work many times yesterday, I found that almost all of yesterday's work on a document is gone. A page of scribbling (underlining text of the pdf) is gone and so are 3 pages of side-notes. This is very problematic.
Are there any updates to fix these bugs? If so, could I get a link to it please? To fix these would make me happier with this product.

S Jose




IP: 179.54.235.78





Jun 15, 2018




Atualização para idioma Brasileiro (Portugues)

Excelente reader - Só falta ter nele o meu idioma (Português - Brasil) mas mesmo assim ele tem tantos recursos que eu estou me virando com o idioma Espanhol. Estou esperando a atualização que a Onyx marcou para este mes de Junho... ai estará perfeito... vem mesmo este mes?
V Ante




IP: 93.136.81.30





Jun 8, 2018




Really nice reader & really awesome store service!

Ordered my Onyx Boox Note after midnight on a monday.

Note shipped same day around 16:00, and arrived to my door four days later.
Crazy fast service and shipping! I'm impressed! Top notch packing too!

Reader itself is a blast, i love the form factor and performance.
I've been out of the E-ink game since iRex iLiad, this is the first "new" E-ink reader i felt the urge to buy. And i'm happy i did, it does exactly what my old iLiad did, except in a lighter and thinner package, with order of magnitude better battery life, and a better and larger screen.
S Jose




IP: 179.54.244.244





May 26, 2018




chegou para mim no Brasil. Exelente ereader.

Este aparelho é multifuncional, se eu for querer escrever tudo oque eu posso fazer com ele, teria que escrever muitas linhas aqui.
Bom, realizei um sonho, com este aparelho , baixei o aplicativo da amazon e é como se eu tivesse o kindle do sonhos de muitos.
a escrita nele é fantastica é melhor que uma caderno. Eu sou desenhista e ele só da para fazer alguns rabiscos, o forte nele é a escrita
e os livros, da para ler qualquer livro. É UMA PENA QUE ELE NÃO TEM O MEU IDIOMA AQUI DO BRASIL, MESMO ASSIM ESTOU MUITO SATISFEITO COM MEU NOTE, NÃO ME ARREPENDO DE TER COMPRADO,, EU ACABEI DE RECEBER O MEU IPAD 2018 QUE FOI LANÇADO... MAS PARA AQUELES QUE TIVEREM DUVIDA QUANTO UM E OUTRO, FICA AQUI MINHA OPINIÃO NADA MAS NADA MESMO SE COMPARA COM UMA TELA DE UM READER E A BATERIA DO MEU READER DURA SEMANAS E NÃO DOI E NEM CANÇA AS VISTAS... ONYX VOCES ESTÃO DE PARABENS SÓ NAO ESQUEÇA DE NÓS BRASILEIROS E COLOQUEM O IDIOMA ( PORTUGUES BRASI NA PROXIMA ATUALIZAÇÃO )
G Antonio Rogério




IP: 186.249.85.55





May 2, 2018




Boox Note é o melhor de todos!

Recebi o meu Boox Note 31 dias no Brasil após o meu pedido. 10 dias foram apenas na alfândega em São Paulo (houve uma greve). Tirando isso foi tudo normal.

O aparelho é fantástico, o melhor e-reader de todos! Melhor que o Lobo Aura One (exceto pela luz alaranjada do Kobo) é muito melhor que Kindle Oasis também! Estou muito satisfeito!

Tive apenas uma surpresa, o idioma brasileiro não estava disponível. Mas estou me virando com o espanhol. Não é difícil, os menus são bem simples e funcionais.

A capa encaixa-se perfeitamente e é de ótima qualidade.

A caneta stylus é um diferencial, isso bastante, uma nova experiência para ler, fica mais real a leitura.

A digitalização é perfeita, muita sensibilidade, os traços ficam reais, os desenhos ficam ótimos.

A material realmente é muito boa, não deixa a desejar.

Os atendentes tem sido bastante atenciosos também e tem tornado a percepção da compra mais segura.

Parabéns a toda a equipe que desenvolveu e distribui ao mundo o Boox Note! Excelente trabalho!
N Mark




IP: 72.73.77.231





Apr 18, 2018




Onyx Boox Note with Protective Case

Suppose you want one, and only one, e-reading device. Which one should you choose?

It can feel like the story of Goldilocks and the Three Bears. A six inch device is fine for ePub and Kindle books, but too small for pdfs. The Max 2 is great for pdf, but a bit too big for reading eBooks. A device that is restricted to only Amazon or Kobo content doesn't allow you to add Instapaper or your favorite email app.

What if there were a device that was small enough for serious reading, large enough to use Splashtop to have your desktop or laptop display on it, and roomy enough for you to install whatever apps you want? Might that device feel... just right?

Enter the Onyx Boox Note. It is basically a reduced-size version of the Max 2. Its 10.3 inch display lands it right in between the 9.7 inch iPad and the 10.5 inch iPad Pro, yet it is lighter than either. Its 2 gb of RAM and quad-core processor make it more capable than older E-Ink devices. It runs Android 6.0 and includes Google Play Store, so you can install current versions of your favorite reading apps. It has 32 gb of internal storage, giving you plenty of room for your books, pdfs. and other files. Bluetooth gives you more connectivity options. The Note has two speakers. They aren't exactly top-of-the-line, but they'll do. (Bluetooth headphones are the way to go here!) The Note comes with a WACOM stylus. I haven't tried its note-taking features yet, though. You can also use the stylus instead of your finger on the touchscreen. The Note also comes with a protective case. Mine arrived today. It fits the Note very well, and has a slot for the stylus. The Note will go into sleep mode when the case is closed, and wake when it's opened.

The Note has no frontlight. It's not intended for dark places. Wherever you have enough light to comfortably read a paper book, you can comfortably use the Note. The Note has no sd card slot, either. But, given the 32 gb of internal storage, and how one can easily transfer files to and from one's desktop or laptop, this really isn't a big deal.

Compared to smaller E-Ink devices, the Note is not cheap. However, given that it is far more capable than older, smaller E-Ink devices have been, the price is reasonable. It is in line with the iPad and similar Android tablets.

If this weren't enough, I have found that Waldemar and the folks at the eReader Store are a pleasure to work with and communicate with. They care about their customers and do their best to support their products.

I haven't encountered any bugs or glitches on my Note yet. It seems that Onyx has come a long way in quality control from when they first introduced the T68 (bad memories for me there!).

So, if the Note feels "just right" to you, by all means, buy it! And, if you buy it, buy it from the eReader Store. You won't regret it.


L Johannes




IP: 190.101.50.161





Apr 11, 2018




The best e-reader and note taker so far

I have it for one week now. Really good for PDF documents.I like the option to take notes over pdf documents. I would love to have the option to use a pendrive to transfer documents.
Only registered user can add review.
Login
Questions
(67)
From
Sorcha
|
2019-02-20 12:05:24
I've noticed a significant reduction in battery capacity over time (since I bought it 9 months ago). Are there particular charging habits that can prevent this decline?
Also, do you offer battery replacement?
administrator
Battery replacement is possible. Depending on your destination it is possible to send the Note to maintenance either in Germany or in China.
Replacement of battery is not covered by warranty and must be paid. Unfortunately you cannot change the battery yourself since you would lose the warranty completely.
For details please contact either our the after sales service or support of Onyx International directly.
From
Allen
|
2019-01-23 21:15:24
I would like to start off by saying how much I love the Boox Note! It is exactly what I was looking for.

Is there a way to use Google text to speech with the organic PDF reader? I'd like to listen to the book while being able to write notes on the PDF. I can use the TTS that comes with the Note, but Google has nicer voices.

Also, is there a way to use Google drive as an automatic system sync cloud? It would be great to have my Note system automatically sync itself to Google drive when I use the note. If I make a note on my PDF document, I'd like it to show in Google drive, automatically.

Again, these are small items, because the overall is great!
administrator
Thanks a lot for kind words!
In the upcoming update (2.1) we are going to present new reading app (Neo 3). Among other features It will support third party TTS engines (including Google TTS) . You can also try to install apps like TTS Reader (free available on Play Store).
From
Angelo Pasotto
|
2018-11-21 12:59:48
Does Speechnotes, or other voice to text app, work on it?
administrator
yes, it does
From
Mukesh
|
2018-10-28 13:44:06
Is there any phone number, I can contact, if I have problems with my device?

administrator
Yes, you can call +49 176 34599899. This number is also to see on About US page of our store:

Attention! Our service desk is for technical support only. Requests for individual information about shipping issues or delivery state of particular orders are only possible in our contact form (using existing order ID)!

E-Mail: service@ereader.store general
Phone: +49 176 345 99899 for technical support in urgent cases only!
From
Rogerio
|
2018-10-11 19:20:13
Qual a diferença entre esse modelo, o LITE, e o PLUS?
(What is the difference between this model, LITE, and PLUS?)


administrator
LITE is without digitizer and stylus (finger controlled only by capacitive touch screen)
PLUS is equipped with glass flush front (scratch protected + anti glare layer).

LITE é sem digitalizador e caneta (dedo controlado apenas pelo ecrã táctil capacitivo)
PLUS está equipado com vidro embutido na frente (protegido contra riscos + camada anti-reflexo).
Your Question has been successfully sent our team. Thanks for question!
Customers who bought this product also bought:
protective-covers
Protective Cover Boox Note Series
Original Onyx Boox Note protective cover made of PU leather.





(2)
accessoires
Max Screen Protector 13.3
Matte screen protector suitable for Onyx Boox Max series (Max, Max Carta and Max2).
...





(1)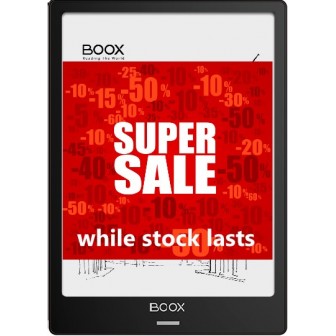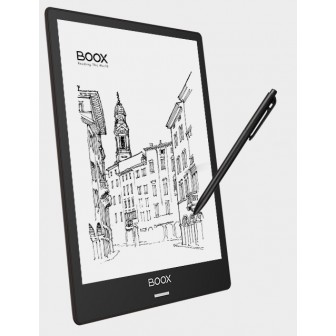 store
Onyx Boox Note PLUS
ONYX BOOX NOTE PLUS is the newest and best  equipped 10.3" professional E-ink reader with...





(1)