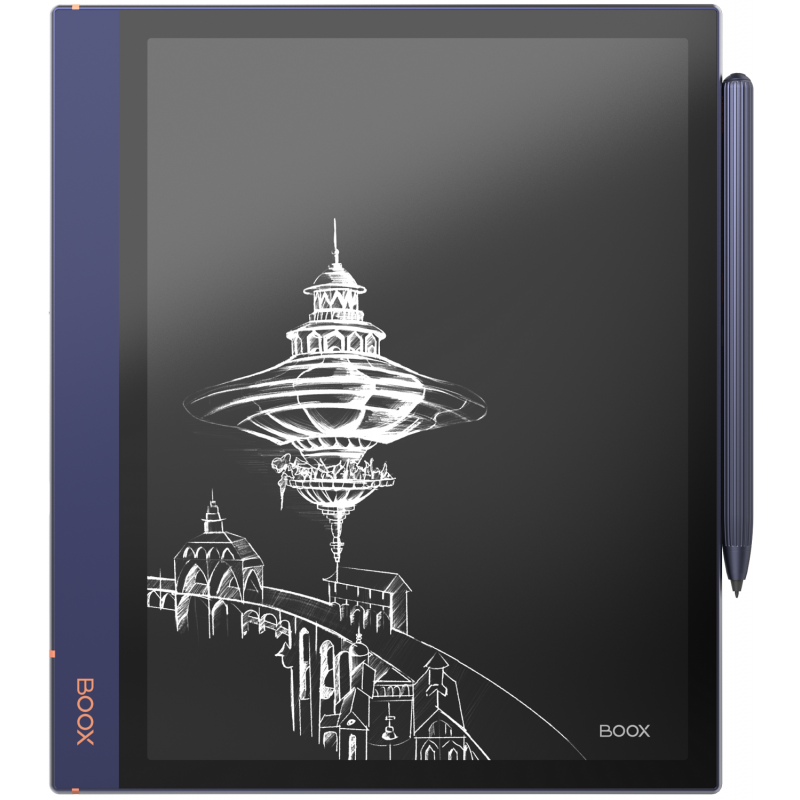  
ONYX BOOX NOTE AIR 2 + FREE SET OF ACCESSORIES + FREE SHIPPING (EU)
New designed Boox Note Air2 is the just-revealed Onyx 10.3'' E Ink tablet, which employs the front light with CTM, upgraded octa-core processors, and Android 11. Note Air provides you with professional reading, note-taking, and drawing features ready for smooth, satisfying experiences.



Accessories
Nice to have
Replacement Parts

Free shipping via UPS to EU mainland for selected products and from 250 EUR

EU Consumers can return their purchases within 14 days after delivery (read Terms & Conditions!)
10.3" HD EINK (E-Paper) Carta screen with flat over-lens 1872 x 1404 (227dpi)  with a flush hartened glass front

Front Light with CTM

Qualcomm Octa-core 2.4 GHz

Android 11.0

RAM 4G LPDDR4X
ROM 64G UFS2.1

Wacom Stylus touch Boox Pen Plus

Capacitive Touch

2.4GHz & 5GHz  WIFI

Bluetooth 5.0
G-Sensor

USB-C with OTG

Speaker
Microphone

Battery 3000 mAh

Length:229.4 mm
Width:195.4 mm
Thickness:5.8 mm
Weight: 420 g
Attention! Screen protector to increase writing feeling and to increase scratch protection is factory applied. Please do not remove it! There are no replacement screen protectors.
The scope of delivery: Storage box, Onyx Boox Note Air2, Boox Pen Plus, USB-C Cable, Quick Start Guide, Warranty Sheet

N Mark




Nov 12, 2021




First Impressions

My Note Air 2 arrived on November 11. Considering that it left eReader Store on the 9th and arrived here in the USA on the 11th, that alone is impressive. Kudos to eReader Store for shipping promptly and to UPS for prompt delivery! The device was well-packed and arrived in excellent condition.

I have owned a number of eInk devices before. I still have an Onyx Boox Nova 2, which has served me well. I bought the Note Air 2 for its larger screen size (to make reading pdfs easier) and its greater storage capacity (64GB). I hoped that I would fine that the Note Air 2 is not too heavy for extended reading times. The writing function is not as important to me, though it is very useful. The ability to install third party Android apps - mainly apps that focus on reading - was also important to me. That's where I'm coming from in ordering this device and writing this review.

In the packaging, Onyx appears to have taken cues from Apple - which is not a bad thing. As I open the box and pull things out, the packaging itself suggests that this is a quality device. The quick start guide is too brief, but there is a manual pre-installed on the device.

The Note Air 2 feels like a well-built, high-quality device. It boots up reasonably quickly. The front light can be easily adjusted to provide the right blend of "warm" and "cool" to suit your taste. The light seems even. Contrast with the light on is very good. Google Play requires a few steps to set up, but this is not complicated. The Note Air 2 feels heavier than the Nova 2 (of course) but it isn't as heavy as one might suppose. The weight does not present a problem for reading. Indeed, a book of this size would weigh more!

Onyx has improved their NeoReader app steadily over the last few years. This work has paid off. It does an excellent job with pdfs. It is equally good with ePubs and nearly as good with azw3's and mobi's. Some people may still prefer a third party reader app, but the NeoReader does quite well.

This is my first eInk device with speakers. If you use them for music, you will not mistake them for Bose - but, for audiobooks, they do a good job.

The pen/stylus feels comfortable to hold. The writing experience does feel similar to paper. I see very little lag. I have not tried third party apps like OneNote yet.

Most third party apps work as expected. I have tried the Kindle and Nook apps, as well as Instapaper and Scribd. Surprisingly, my Verbum Bible study app did not work so well, but I found a way to have it work properly. If the page turning in any app seems slow, you can fine tune this (and other features) in the Optimization window. You can adjust page refresh to suit your tastes.

Battery life appears to be on a par with my Nova. Turning off WiFi and Bluetooth when not needed helps. Remember that when you see claims that a Kindle (for example) will last for weeks, that estimate is based on a half hour of reading per day and WiFi off. Use the Note Air 2 similarly and your results won't be far off.

The eReader Store includes a protective cover with the Note Air 2. It fits well, and will put the device to sleep when closed and wake it up when opened. It looks and feels like a good quality cover.

The only component that could stand a quality improvement is the USB-C cable. It's okay, but not as reliable as a good quality cable you can get from any number of sources.

Overall, I am very pleased with this device and can recommend it without hesitation. As long as you know what an eInk device is all about, you'll find this one to be one of the best.






A Shahriar




Nov 2, 2021




Wonderful device!

I've just updated myself from Note 2 to Note Air 2, and I can say the improvement, especially in note-taking, surprised me! The new pen and rough screen layer added to the device has made the writing experience with Note Air 2 as close as possible to writing on paper. The only drawback is that Note Air 2, unlike Note 2, does not have any fingerprint sensor. However, I don't think that's a vital capability in an E-reader. Android 11 and the new processor also have improved the performance significantly.
Only registered user can add review.
Login
Questions
(1)
From
James
|
2022-01-12 20:21:46
I was just wondering if you know if purchase of the Note Air 2 device for delivery to Italy will be subject to any additional import/VAT charges, and if so how much that would be? Do the different carriers shipping to Italy differ in how they handle such charges?
Thanks
administrator
We are a German company so if you place your order with a delivery address in the EU (e.g. Italy), we need to charge the German VAT in the invoice. There are no other import fees or similar in Italy for this purchase. If you can provide a valid VAT ID and place your order as a company, you don't even have to pay our VAT (VAT free purchase).



Your Question has been successfully sent our team. Thanks for question!
Customers who bought this product also bought:
protective-covers
Magnetic Case For Boox LEAF
A dedicated case was developed for Boox Leaf to keep it safe and enhance usability. It is...