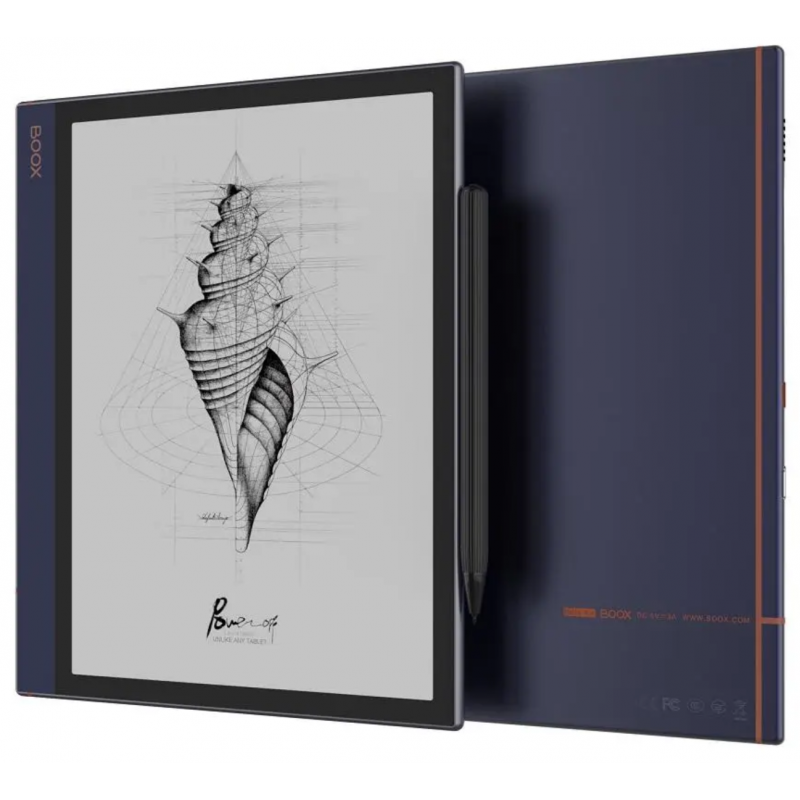  
ONYX BOOX NOTE AIR SET
New designed Boox Note Air is the just-revealed Onyx 10.3'' E Ink tablet, which employs the front light with CTM, upgraded octa-core processors, and Android 10. Note Air provides you with professional reading, note-taking, and drawing features ready for smooth, satisfying experiences.

Introducing offer.

Free shipping via UPS to EU for selected products and from 550 EUR. Low-priced shipping via UPS Express worldwide .

Returns accepted 14 days after delivery (please read our Terms and Conditions)
10.3" HD Mobius flexible EINK (E-Paper) Carta screen with flat over-lens 1872 x 1404 (227dpi) / Regal

Front Light with CTM

Qualcomm Octa-core 2.4 GHz

Android 10.0

RAM 3G LPDDR4X
ROM 32G UFS2.1

Wacom Stylus touch

Capacitive Touch

2.4GHz & 5GHz  WIFI

Bluetooth 5.0
G-Sensor

USB-C with OTG

Micro HDMI

Fingerprint recognition back button

Dual speakers
Microphone

Battery 3000 mAh

PMMA cover lens
f
Length:229.4 mm
Width:195.4 mm
Thickness:5.8 mm
Weight: 420 g
The scope of delivery: Storage box, Onyx Boox Note Air, Stylus Pen, USB-C Cable, Screen Protector, Quick Start Guide, Warranty Sheet
As a gift from our store the original Boox Note Air protective cover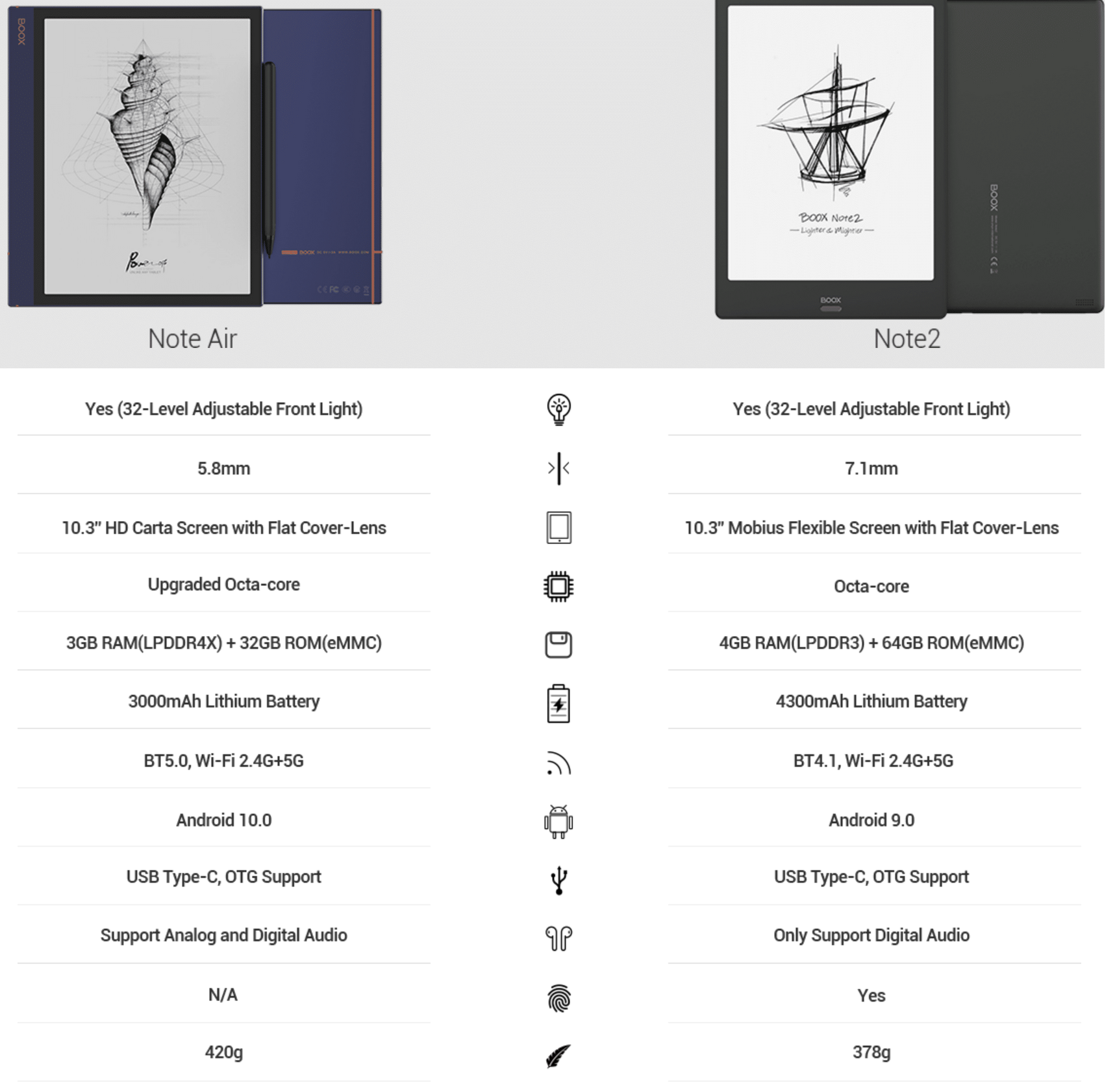 C Oscar




Oct 22, 2020

Review is pending moderation
Only registered user can add review.
Login
Questions
(7)
From
Veronika
|
2020-10-17 22:39:45
Hello! I live in Canada; do I need to pay fees/taxes for import?
administrator
Import fees of Canada are depending on the province. Better you ask your local authorities. We value our packages below the average import threshold of Canada but do not give any warranty it will be free of import fees. There is also The Comprehensive Economic and Trade Agreement (CETA) is a free trade agreement between the EU and Canada. It removes about 98% of all import duties on goods of EU or Canadian origin— making it easier and cheaper to import and export. Whether it works for our exports need to be cleared locally.

From
António Santos
|
2020-10-15 18:39:59
Hi. The text mention that the export price for EU B2B customers (tax excl.) is 393€. How do I proceed as a EU B2B to order at that price? Thanks
administrator
You just need to register your customer account in our store. Shipping and billing addresses must be in the same country and must contain a valid VAT ID entry.
From
Edgars
|
2020-10-15 16:31:14
Hi! Two quick questions:
1) What is the length of the warranty covered period? Is it the same for the B2b customers ?
2) "As a gift from our store the original Boox Note Air protective cover" - Is it this cover ?
https://goodereader.com/blog/uploads/images/2020/09/case.png

Thanks!
administrator
Hi,
1) We offer two years of seller warranty to consumers from the EU and one year of warranty to international customers and B2B customers
2) The cover is the original Onyx Boox Note Air cover, which will be offered in our store as a separate accessory. It is the same case as on the picture
From
Claire HD
|
2020-10-13 23:03:47
Is there an export / import fees for shipping to the UK? Thanks :)
administrator
We ship our products from our German Warehouse. Therefore as an Intra-EU transaction, there are no additional import fees to be charged.
From
esa illi
|
2020-10-12 19:42:16
I suppose you don´t have any Note Air in your warehouse at the moment? Any info or promises from Onyx Boox?

administrator
We are currently processing the shipping preparation of a big quantity of placed pre-orders for the Note Air. All the pre-orders should be delivered by the end of this or by the beginning of the next week. The second batch of NOte Air will be available very soon too (around October 22).
Your Question has been successfully sent our team. Thanks for question!