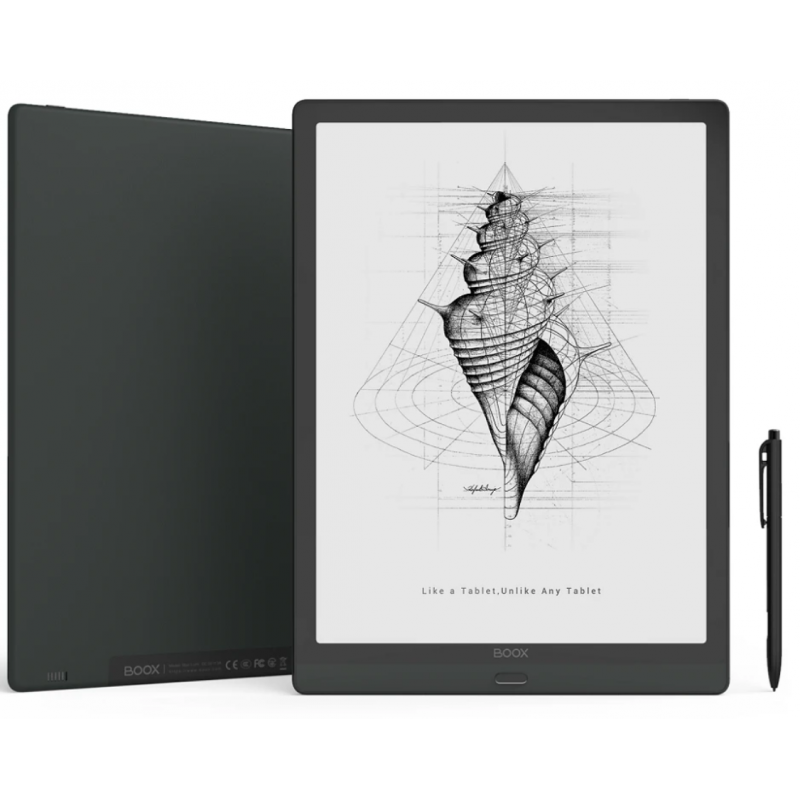  
ONYX BOOX MAX LUMI + FREE SHIPPING (EU) + FREE ACCESSORIES
The first 13.3'' E Ink tablet employs the front light with CTM, upgraded octa-core processors, and Android 10. Max Lumi provides you with professional reading, note-taking, and drawing features ready for smooth, satisfying experiences.




Free shipping via UPS to EU mainland for selected products and from 250 EUR

Consumers can return their purchases within 14 days after delivery (please Terms & Conditions)
13.3" HD Mobius flexible EINK (E-Paper) Cart screen with flat over-lens 2200x 1650 Carta (207dpi) / Regal
Front Light with CTM
Qualcomm Octa-core
Android 10.0
RAM 4G LPDDR4X
ROM 64G UFS2.1
Wacom Stylus touch
Capacitive Touch
2.4GHz & 5GHz  WIFI
Bluetooth 5.0
USB-C with OTG
Micro HDMI
Fingerprint recognition back button
Dual speakers
Microphone
Battery 4300 mAh
PMMA cover lens
Dark green back metal panel

 Usable in the Dark     

 Surprising Functions

 Save 10% of Power    

 30% More Responsive

 Smart and Versatile
 Flexible E Ink Display
The scope of delivery:
Wacom Stylus Pen
(The version may be different from the product picture. Depending on the batch of products, it may be a new version without a clip. We cannot control it)
Warranty Sheet

A gift from our store  - original Onyx Boox Max Lumi protection cover

R Juan Alberto




Oct 31, 2020




Delivered un Germany in 1 business day

Hi,
Ordered Monday night, received Wednesday lunch time!
Content was safely protected, and originally sealed.
First boot up to set overall configuration, battery was 99 %.
Seemed to be produced couple of weeks at much.
Very recommendable distributor in Europe, hope to extend a little bit more the portfolio with more accessories.

G Bartosz




Oct 10, 2020




Very quick shipment

I ordered Max Lumi on eReader.store week before it became officially available in EU on producer's page and got it just two days. Great service! As for the product - be mindful as first batch of devices might have small production defects. Mine is scratched a bit on screen edges... which is barely visible but yet - still, new device shouldn't come with marks on it. Nevertheless I'm so excited to have the device so early that I don't complain at all.
Only registered user can add review.
Login
Questions
(9)
From
Rohan
|
2022-01-13 04:53:50
I want to import it to India can you please tell me shipping cost and js code also tell where you are shipping from.
administrator
Hi Rohan,

thanks a lot for your interest in our products!

We ship quite a lot of our products to our customers in India.

To India, we can only offer shipping as a UPS Express saver package for EUR 69. Delivery time is usually 3-5 days.

HS Code 84713000

Best Regards
Waldemar

From
Stefano Mariotti
|
2021-04-07 21:27:46
Is it possible to pay by a bank transfer? How do you process the order in this case and is it secure? I suppose you'll deliver the item after you'll have verified the credited amount without delays if you have it in stock. I am in italy: is the price comprehensive of the italian taxes, all included, no other charges? Sorry, too many questions.
administrator
We offer bank wire payment. As an Italian customer, it is very easy for you to transfer your payment as SEPA transfer. All the taxes and shipping are already included in the price. All our products are currently in stock and can be shipped the same day as ordered. Delivery to Italy via UPS takes usually just 2-3 working days.

From
Ivan Carr
|
2021-02-17 02:39:33
Hi, this item says "Delays are currently possible!", is that delays in shipping? And if so, of about how many days?
administrator
Hi, yes it is about delays during transportation. It, unfortunately, affects both, the way from the supplier/factory to our warehouse and the ways from our warehouse to the customers. Those delays we experience especially from the end of 2020 and the beginning of 2021. Instead of usually 3-4 days for express delivery we sometimes have up to 14 days (despite the prices for transportation have been increased noticeably.) Because of the lockdown transports are overload since they have to deal with the rapidly increased quantity of packages /orders of online customers

From
Ivan Makaris
|
2021-01-14 11:07:07
Do you have this product in stock. It says restocking. What does that mean?
administrator
Re-stocking means the product currently cannot be dispatch immediately from our local stock. Batches with this product are in transit from the factory or from our warehouse in Hongkong to our local warehouse in Germany and will be available for dispatch soon (accordingly to the pointed processing time).

The demand for these devices is currently very high and supplied quantities are still limited so that we have not yet been able to build a stable stock for this product in our warehouse.

From
Sergii Biloshytskyi
|
2020-12-11 08:52:29
It says: €757.00 export price for non-EU
I am ordering from Ukraine how can I get a tax return when ordering?
Thank you
administrator
Dear Sergii,

If your shipping address is in Ukraine, you don't have to pay our VAT. After registration, your product price will be EUR 757 plus shipping.
Best Regards

Your Question has been successfully sent our team. Thanks for question!
Customers who bought this product also bought: