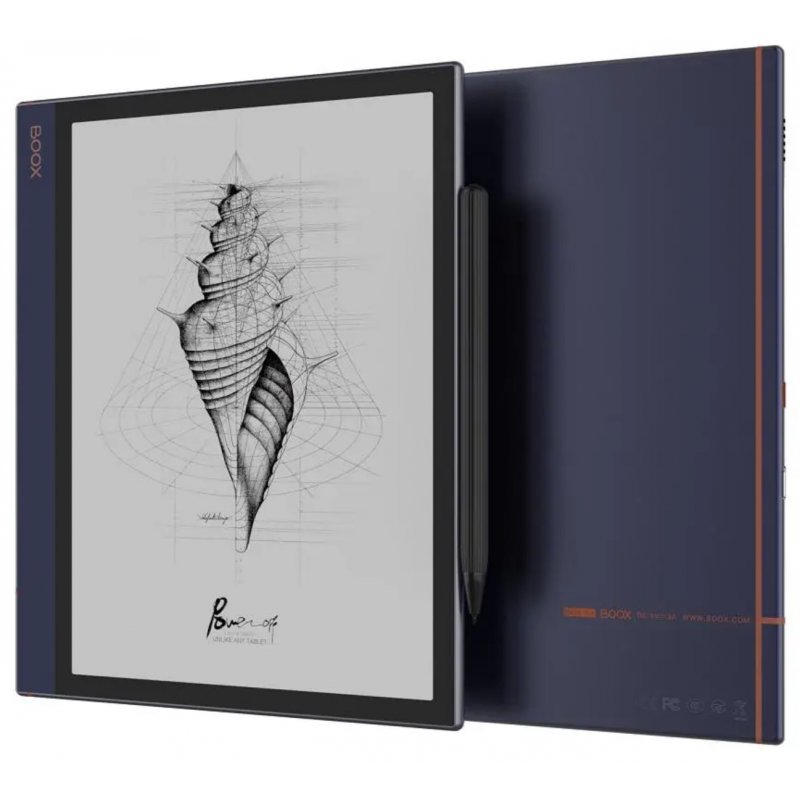  
ONYX BOOX NOTE AIR + FREE SHIPPING (EU) + FREE ACCESSORIES
New designed Boox Note Air is the most selling Onyx 10.3'' E Ink tablet, which employs the front light with CTM, upgraded octa-core processors, and Android 10. Note Air provides you with professional reading, note-taking, and drawing features ready for smooth, satisfying experiences.



Accessories
Replacement Parts

Free shipping via UPS to EU mainland for selected products and from 250 EUR

Consumers can return their purchases within 14 days after delivery (please Terms & Conditions)
10.3" HD Mobius flexible EINK (E-Paper) Carta screen with flat over-lens 1872 x 1404 (227dpi) / Regal

Front Light with CTM

Qualcomm Octa-core 2.4 GHz

Android 10.0

RAM 3G LPDDR4X
ROM 32G UFS2.1

Wacom Stylus touch

Capacitive Touch

2.4GHz & 5GHz  WIFI

Bluetooth 5.0
G-Sensor

USB-C with OTG

Micro HDMI


Speaker
Microphone

Battery 3000 mAh

Flat glass cover lens
Length:229.4 mm
Width:195.4 mm
Thickness:5.8 mm
Weight: 420 g
The scope of delivery: Storage box, Onyx Boox Note Air, Stylus Pen, USB-C Cable, Screen Protector, Quick Start Guide, Warranty Sheet
As a gift from our store the original Boox Note Air protective cover (M2) + Replacement tips for the stylus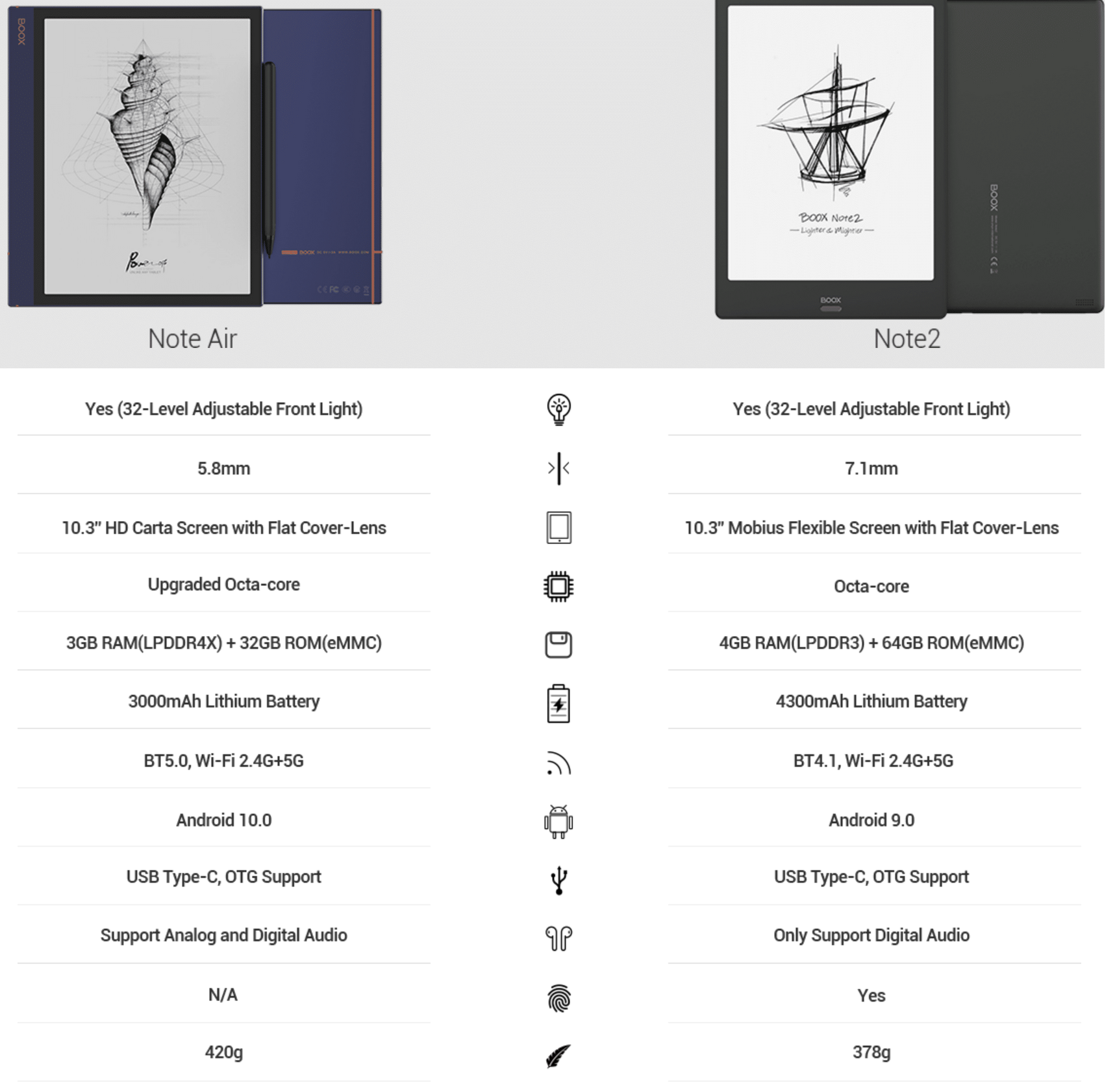 K Alexandros




Nov 8, 2020




Note Air

Absolutely amazing!! I have it for almost a month now, I am using it basically to read and less for notetaking, at least for now. Amazing design, outstanding functionalities. I read literature mostly on Kindle app and tech books mainly in pdf forms in the system's Neo Reader. You can add notes, draw anything on the pdf, and of course, it saves your progress in any document that you read. I charged it only once till now (almost a month). It is great for my personal things as for my work on studying tech books or documents for my work (Software Engineer). I spend all day in front of a screen for my work and I wanted to read without hurt my eyes and not carrying around books. With Note Air, I can read anywhere at any time, anything I want!! I am still learning its functionalities and capabilities so I will come up with a new review or edit this one!! It worth its money and it is great. The writing on taking notes is great too and both reading and writing are very similar doing them on paper.
S Stefan




Oct 25, 2020




Note Air

Das Note Air ist sehr viel schneller als das Note 2, das betrifft zoomen und Handschriften. Es ist 40 gr. schwerer, liegt aber wegen der Form gut in der Hand und ermöglicht tatsächlich das Notieren unter vollem Zugriff auf die Funktionsleiste. Durch die automatische Rotation kann man bei größeren PDF ein wenig an Größe des Ausschnitts gewinnen, etwa bei Überschriften von Zeitungs-PDF etc. - die Umstellung erfolgt schnell und reibungslos! Das Gerät kommt mit der neuen Firmware 3.0, die viele Verbesserungen aufweist. Der Stift ist ein kleines Manko, je nach Geschmack und Gewichtung: das Schreiben mit der nun etwas spitzeren Spitze geht sehr gut auf dem Glasdisplay, mehr Reibungswiderstand hat der alte Stift geboten, der auch noch die Radiergummifunktion hatte. Dafür ist der neue Stift nun magnetisch und haftet - einigermaßen zumindest - an der Seite des Geräts. Mehr Halt hat er, wenn man ihn links auf den Rahmen packt - aber da will man das Gerät ja eigentlich halten, das ist Sinn und Zweck des Designs.
Der Speicher und die Batterie sollten ausreichen, wenn man nicht auf Weltreise durch Gegenden ohne Strom geht - wer hier mehr mehr Leistung will, muss das Note 2 oder 3 heranziehen.
Die Hülle: soweit ich das gesehen habe, ist diese an das Gerät mit Klebestreifen anzubringen, wodurch man dann auf diese Kombi festgelegt ist, das Gerät nicht schnell rein. und rauspacken kann - dazu hätte Onyx Magneten verwenden müssen, wie etwa das Remarkable mit entsprechender Hülle. Das mag aber ein kleineres Problem sein. Wer das Gerät "nackt" in der Hand halten will (dazu ist es ja eigentlich gemacht!), muss sich hier etwas ausdenken. Die Anbringung des Stifts erfolgt dann in einem Stofftäschschen, all das habe ich nicht ausprobiert... auch ob ein Laden in der Hülle geht (sollte eigentlich selbstverständlich sein) hat sich mir nicht auf Anhieb erschlossen.
In der Summe für das Geld ein sehr gutes, schnelles Gerät mit dem man glücklich wird - wenn man kleinere Schönheitsfehler ignoriert!
Die Performance ist jedenfalls das Beste, was ich bisher in dem Bereich ausprobieren konnte!
C Oscar




Oct 22, 2020




Amazing!

I simply love the note air. It has so many "small details" covered that makes me think that the constant feedback and exprience that boox has gotten over the years, is finally showing its results. I had previously used the Note S, so this was a big upgrade. And I can say that now I love the navigation ball, the calendar memos, the new screen savers, the monthly records of the notes/readings. The browser is now extremely useful. The writing experience is nice, but from time to time it might feel a bit laggy, but highly usable.

Maybe the only thing that I don't like with this kit, is the free cover, as it has to be "glued" to the note air, but well, it was free :P, so no complaints.
Only registered user can add review.
Login
Questions
(10)
From
S Tejani
|
2021-05-22 20:06:35
I want to order this product in the UK. What is your return policy for the UK?
administrator

We actually still have the same return policies for the GB as for the EU - return is possible within 14 days after arrival if you are a consumer.

Didn't change anything besides the German VAT will not be charged anymore to GB customers.
From
vicente
|
2020-11-01 22:35:01
Is its screen's backpane plastic or glass?
I fear such a big device could break easily by a minimum bending like firsts ereaders from Onyx (M92)
administrator
The screen is made of Glass. However please don't compare it to the M92 series. In all the recent models with screens up to 10.3" we had no reported problems with a broken screen.
The bigger brother of Note Air the Note 3 has got a more expensive Mobius felxible screen.
From
Simone Ghezzi
|
2020-10-25 02:35:46
HI,
I am an Italian university professor (University of Milano Bicocca - Department of Sociology and Social Research) and I am interested in purchasing the Onyx Boox Note Air.
I would like to know if I can pay this device through a bank transfer of my university. If this form of payment is possible, then I need a Reverse Charge VAT Invoice headed to my Department.
Would all of this be possible?

Looking forward to your reply
regards,
Simone Ghezzi
administrator
Hi,
If you are going to order a product in our store using your University's address as a billing address, please register this address during checkout and put the VAT-ID of the university in the proper field in the address form. Use the same VAT-ID in the shipping address, if it is different from the billing address. If the VAT ID is valid, you can immediately go with a VAT-free purchase. The VAT ID will be checked automatically. Sometimes the connection to the validation service does not work. In such cases, we check it manually and enable your account for a VAT-free purchase. In the check out you can choose the bank transfer as a payment method.

Best Regards
From
Veronika
|
2020-10-17 22:39:45
Hello! I live in Canada; do I need to pay fees/taxes for import?
administrator
Import fees of Canada are depending on the province. Better you ask your local authorities. We value our packages below the average import threshold of Canada but do not give any warranty it will be free of import fees. There is also The Comprehensive Economic and Trade Agreement (CETA) is a free trade agreement between the EU and Canada. It removes about 98% of all import duties on goods of EU or Canadian origin— making it easier and cheaper to import and export. Whether it works for our exports need to be cleared locally.

From
António Santos
|
2020-10-15 18:39:59
Hi. The text mention that the export price for EU B2B customers (tax excl.) is 393€. How do I proceed as a EU B2B to order at that price? Thanks
administrator
You just need to register your customer account in our store. Shipping and billing addresses must be in the same country and must contain a valid VAT ID entry.
Your Question has been successfully sent our team. Thanks for question!
Customers who bought this product also bought:
digitizer-stylus
BOOX Wacom Stylus Nibs
Original replacement nibs for Wacom styluses of Onyx professional and Boyue...